When you're looking to fill a key role in your company, the process of finding the right candidate can seem daunting. How do you find someone who is qualified and has the right cultural fit? The answer lies in creating a great job description. Your job posting is usually your candidates' first interaction with your company, so it's important to make a good impression. In this blog post, we will discuss how to create job descriptions that will help you find the best talent for your team!
Believe it or not, the first step in assembling an all-star team isn't a great training program or higher salary — it all starts with creating a job description that encourages the right candidates to apply.
Diverse and Inclusive Language
As a hiring manager, recruiter, or HR manager, you are usually tasked with creating a job description that is fully inclusive and detailed for any interested candidate to get a good feel for what the position entails. Not sure how to create job descriptions that are fully inclusive? The first step in creating a job description is encouraging candidates from different backgrounds, genders, ages, and personalities to apply.
How do you do this? By using language that is universally appealing and not discriminatory in any way, you can ensure that any candidate who sees your job description won't be put off by the words and phrases you use.
Even something minor—like a word—can affect whether or not you are attracting a diverse talent pool. With diversity and inclusion among the biggest and most important trends in talent acquisition, companies need to ensure the job descriptions are inclusive. A few things you can check for to make sure you create the perfect job description include:
Avoid gendered words. Even if the word isn't outright gendered, certain words like "ninja" and "guru" can turn some applicants off, so it's best to avoid them altogether. Additionally, avoid using words like "hacker," "rockstar," and "superhero." We may often think our job descriptions are inclusive, but certain words — like the ones mentioned — will deter some candidates from applying. We highly suggest using The Gender Decoder tool, which is a free online tool that can tell you right away whether your job ad leans too much towards either feminine or masculine-coded words. By simply copying and pasting your job description into the Gender Decoder tool, you can avoid any terminology that may prevent candidates from applying.
Limit job requirements to only the essentials. The most common word used in job descriptions is "required." The term "required" may cause qualified candidates to feel unworthy of even applying to your job opening. However, there are some instances where the term "required" can be used. If you are looking for someone with at least two years of working experience, it can be acceptable to use the term "required." However, don't overuse it. For other requirements of the role, soften your language with terms like "familiarity with," "some experience in," or "extra points for." Even you know there's usually wiggle room on qualifications.


Avoid technical language. Any words or phrases that are specific to your industry should not be included in your job descriptions unless they are done on purpose. It can be intimidating to entry-level candidates who have the skills but come from less traditional corporate backgrounds to see words or phrases specific to your industry that they are unaware of. Terms like CAD system or CMS should be avoided or written out (ex. CMS or "content management system") to avoid candidates from being deterred from applying. One case where you can use technical language is if it is required for the role. For example, if you are looking for a candidate with SEO experience, you will not need to write out "search engine optimization" because any marketer with SEO experience will know the acronym.


Mention your commitment to diversity and inclusion in the job description. Let your applicants know that your company promotes diversity in the workplace. Here at City Personnel, we include the following blurb on all of our job openings:

"City Personnel, Inc. is an Equal Opportunity Employer, and we do not discriminate against applicants due to race, national origin, religion, marital status, veteran status, disability, gender, gender identity, sexual orientation, or other protected characteristics. If you need special accommodation for the application process, please contact us."
Include Any Details Candidates Would Need To Know
As a job seeker, you would want to know as much as possible about a potential role before applying, right? The last thing you would want to do is waste your time applying to a job that looks good on paper, but come to find out wasn't explained well enough in the job description. You'll want to know what the daily tasks and responsibilities are, what skills and experience are required, and what the salary range is. You'll also want to know about any perks or benefits associated with the role, such as health insurance or paid time off.
Including all of this information in a job posting will help candidates understand the role and decide if it's a good fit for them. In addition, including a detailed job description will help you attract better-qualified candidates and save time during the interview process.
Don't make the job sound better in the job description just to receive more applications. Be truthful and explain as much as you can about the role to ensure you aren't wasting your time interviewing candidates that aren't interested in the position.
Here is a template of how to create job descriptions that will benefit you and benefit candidates applying to your job opening:
Include a specific but common job title. Don't get too crazy with the job title you select, but make sure to be specific. Use a common job title that will attract candidates and perfectly explain the position you are hiring for. If the position title is Customer Experience Enhancement Consultant, it may be confusing to applicants scrolling through Indeed. Instead, use a more common title like Customer Service Representative or Customer Consultant. The longer the job title, the less chance an applicant applies

— so be specific in the shortest amount of words as possible.
Create a job description that catches a candidate's attention. Research has shown that you have about eight seconds to capture people's attention, which is why it is crucial for the first few sentences of your company's job description to catch the attention of the reader. Rather than making a boring description of the position with 10+ bullet points that follow, try to include the best part about working with your company (i.e. salary, benefits, growth opportunity, etc.)


Include details that make your company unique. What makes your company stand out from your competition? Has your company won any rewards over the past year? Include anything that can set your company apart from the other positions a candidate is applying for. If you let your employees out early every Friday, make sure to let it be known.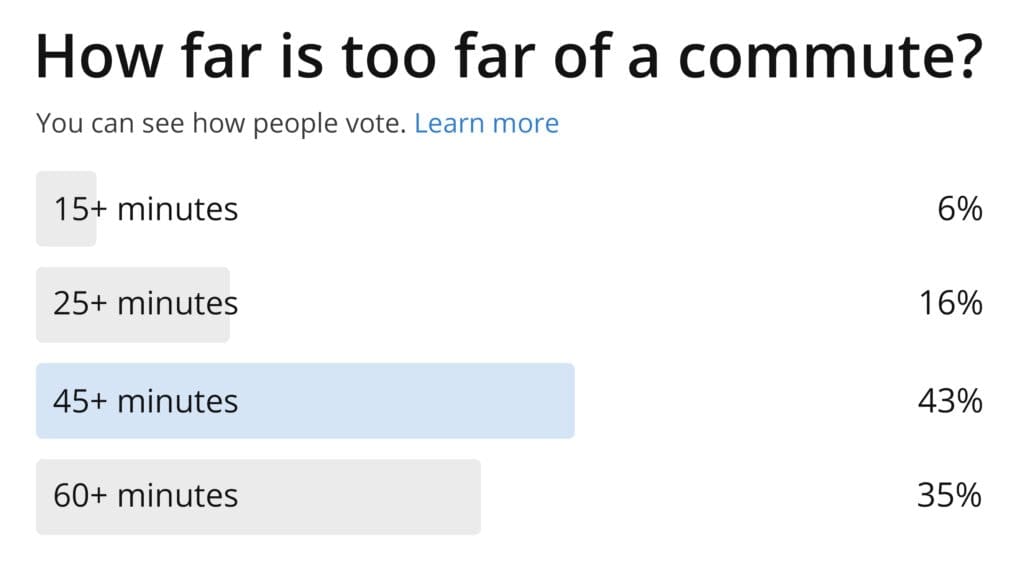 Include the core responsibilities and duties of the position. Only add the responsibilities and duties that take up the majority of the role, and leave out the other responsibilities that aren't as big of a necessity.
Include information on how the role fits within the organization. Explain if the position is a team role, who the direct manager would be, and everything else that will help a candidate understand where the role fits within your organization.
List hard and soft skills needed to get the job done. If your office is fast-paced and energetic, make sure to include that you are looking for candidates with organizational skills, problem-solving skills, and time management skills.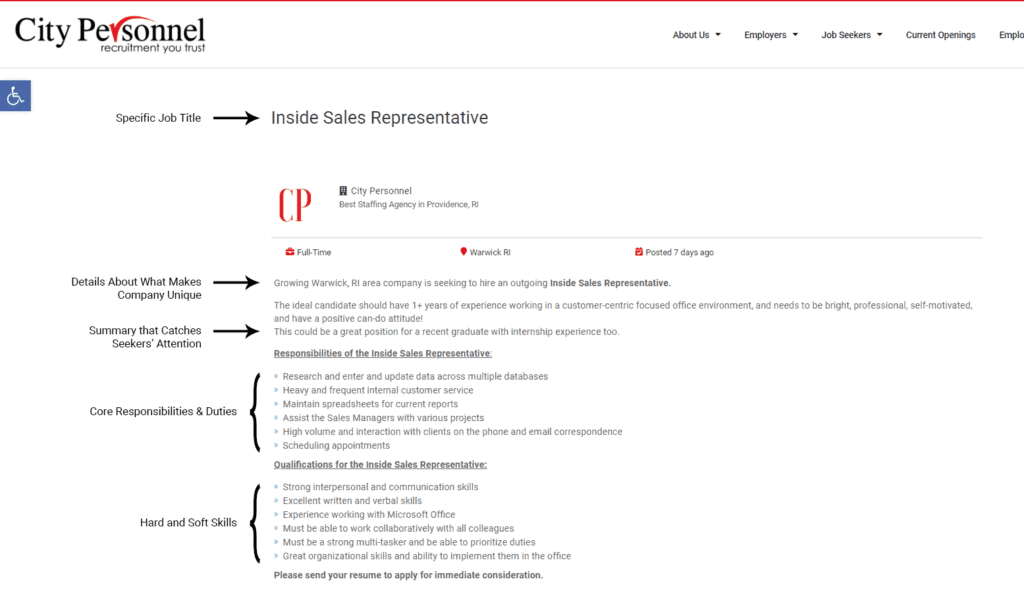 Highlight Company's Inclusive Benefits
A recent study found that nearly 60% of workers would leave their current job for one that offered better benefits. This makes sense when you consider that employees today are looking for more than just a paycheck. They want to work for a company that values them as a whole person, not just an employee. That's why an increasing number of companies are offering benefits that go beyond the traditional health insurance and 401k plans. Here are just a few examples of the types of benefits that are becoming more common:
Paid family leave. More and more companies are offering paid family leave, either through paid time off or extended leave policies. This helps employees to balance their work and family responsibilities without having to choose one over the other.


Flexible work arrangements. A growing number of companies are offering flexible work arrangements, such as flextime and remote working options. This allows employees to have more control over their work-life balance, which can lead to increased productivity and satisfaction. Do you have summer Fridays, flexible hours, or offer your employees a 3-2-2 workweek? If you're committed to something as a company, say it loudly and frequently!


Wellness programs. An increasing number of companies are offering wellness programs, such as gym memberships and on-site health services. This helps employees to maintain their health and well-being, which can lead to lower healthcare costs for the company.
How to Create Job Descriptions
By following the tips we discussed in this article, you now know how to create job descriptions that will help you assemble an all-star team.
If you are still finding it difficult to create the perfect job description, or having difficulties finding the right talent for your job openings, we can help! Hiring doesn't have to be hard, but it can definitely feel like it sometimes in this job market. However, City Personnel can help keep the process simple and synchronized by optimizing your recruitment process. If you need help staffing your all-star team, let us know!