Are you feeling overwhelmed as you try to navigate the job search? You're not alone. If you're like many others, it can be hard to keep track of resumes, applications, and networking contacts. The good news is that there are some tools available that make it easier to organize your job search process—and we'll tell you all about them! Read on for our list of the best tools for staying organized during your hunt for a new role.
Google Sheets is an invaluable tool for organizing and managing your job search effectively. With its versatile features, it can help you keep track of the jobs you apply for, the resumes you send to specific positions, and important email and interview information. Here's why Google Sheets is a great choice for organizing your job search:
First and foremost, Google Sheets provides a centralized platform where you can create a comprehensive database of all the jobs you apply to. You can easily set up columns to include essential information such as job titles, company names, application deadlines, and links to job descriptions. Having all this information in one place allows you to quickly reference and review your applications, which is crucial when managing multiple opportunities simultaneously.
Another key advantage of using Google Sheets is its ability to track the resumes you send to different jobs. By creating additional columns or tabs, you can record the specific resume versions you submit to each position. This feature helps you keep track of which resumes have been sent, ensuring you don't accidentally send the wrong version to a potential employer. Additionally, you can use filters and sorting functions in Google Sheets to easily search and organize your applications based on various criteria, such as the date submitted or the job status.
Moreover, Google Sheets allows you to store important email and job interview information related to your job search. By creating separate columns or tabs for email communications and interview details, you can document relevant email threads, interview schedules, contact information, and any notes or follow-up actions. This helps you maintain a clear and organized record of your interactions with potential employers, ensuring that nothing falls through the cracks and you're fully prepared for each stage of the process.
Using Google Sheets for your job search also offers the benefit of easy access and collaboration. Since Google Sheets is cloud-based, you can access your job search spreadsheet from any device with an internet connection, whether it's your computer, smartphone, or tablet. This means you can update and view your information on the go, keeping your job search organized and up to date at all times. Furthermore, you can share your spreadsheet with mentors, coaches, or trusted friends who can provide feedback or guidance, enhancing collaboration and accountability.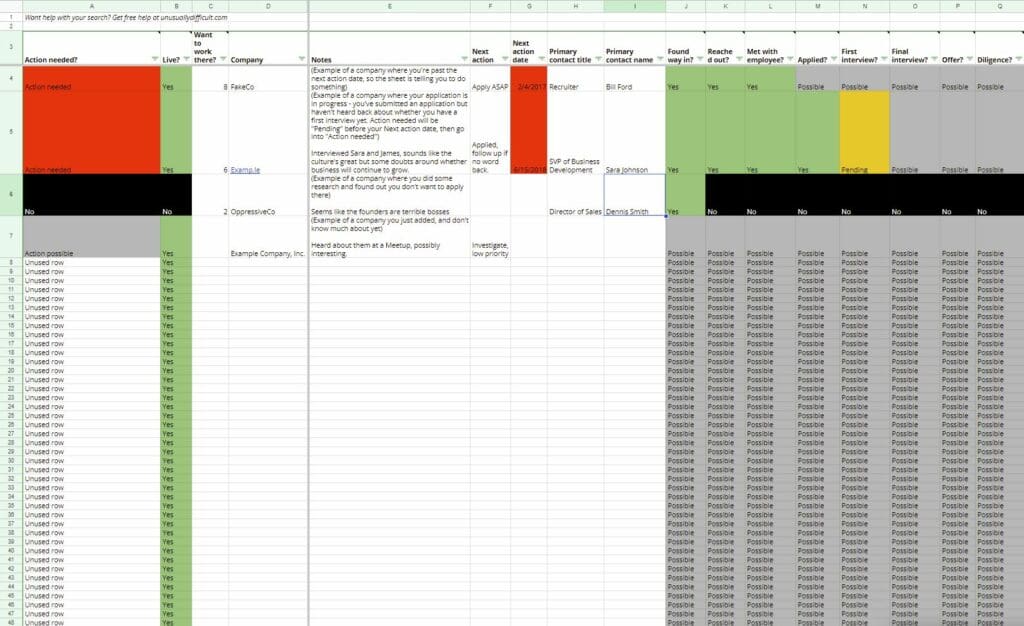 Keeping track of job applications can be overwhelming, especially when you have multiple versions of your resume tailored to different positions. However, there is a solution that can help you stay organized and streamlined: Airtable. This online tool is designed to assist you in managing your various resume versions and associated keywords effortlessly. The best part? Airtable is user-friendly, making it accessible to all, regardless of your spreadsheet expertise. Moreover, the fact that it's free for individuals adds an extra layer of convenience. By using Airtable, you can focus on the job search itself, knowing that you have everything well-organized and easily accessible.
One of the main advantages of Airtable is its intuitive interface. Even if you're not a spreadsheet expert, you can quickly grasp how to navigate and utilize its features. Airtable provides a range of templates specifically designed for job seekers, allowing you to create custom databases to track your job applications effectively. These templates come with pre-built fields, such as job title, company name, application date, and status, making it easy for you to input and organize relevant information. Additionally, you can customize these fields to include additional details specific to your needs, such as interview dates, feedback, or follow-up actions.
Another standout feature of Airtable is its flexibility. It goes beyond traditional spreadsheet functionality, offering a range of view options that cater to different preferences. You can switch between table, grid, calendar, or Kanban view, depending on how you prefer to visualize your job search progress. For example, the Kanban view allows you to move applications through different stages, such as applied, interview scheduled, or offer received, providing a visual representation of your progress at a glance. This flexibility allows you to adapt Airtable to your preferred workflow and make your job search more efficient.
Additionally, Airtable offers powerful filtering and sorting capabilities. With just a few clicks, you can filter and sort your job applications based on various criteria, such as application status, company name, or interview dates. This makes it easy to find specific information quickly, whether you want to track the number of applications you've submitted, review all pending interviews, or follow up on certain companies. By utilizing these features, you can save time and stay organized throughout your job search journey.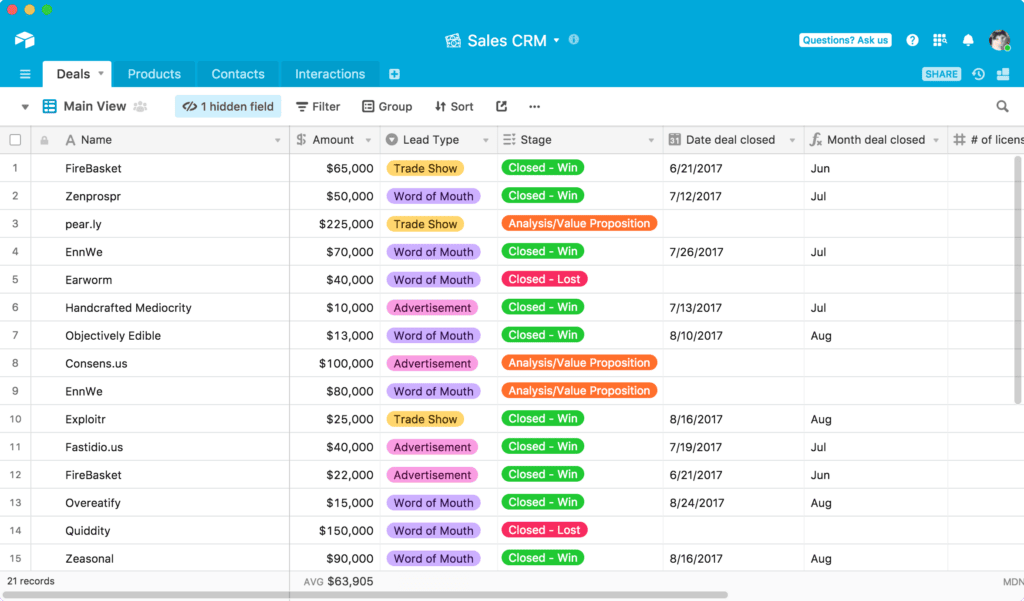 Asana goes beyond being just a task manager; it is a comprehensive tool that helps you keep everything in one place. With over 200 apps available, it's no wonder why Asana is so popular among job seekers.
One of the standout features of Asana is its seamless integration with your Gmail account. This integration allows you to add contacts directly from your inbox, making it effortless to keep track of important connections and communication. With this feature, you can easily convert emails into tasks, ensuring that nothing gets lost in your inbox and that you have a clear action plan for each opportunity.
Asana also excels in time management and organization. You can create lists within Asana to categorize and prioritize your job search activities. Whether it's creating a list of target companies, tracking application deadlines, or scheduling interviews, Asana allows you to manage your time effectively and stay on top of important tasks. Additionally, Asana provides features such as due dates, reminders, and notifications to help you stay accountable and meet deadlines.
The beauty of using Asana for your job search is that it centralizes all the little details for you. Instead of scattered notes and to-do lists, you can have everything neatly organized within Asana. You can create projects for different aspects of your job search, such as applications, interviews, networking, and follow-ups. Within each project, you can create tasks, add descriptions, attach files, and even collaborate with others if needed. This level of organization ensures that all your vital information is easily accessible, saving you time and reducing stress.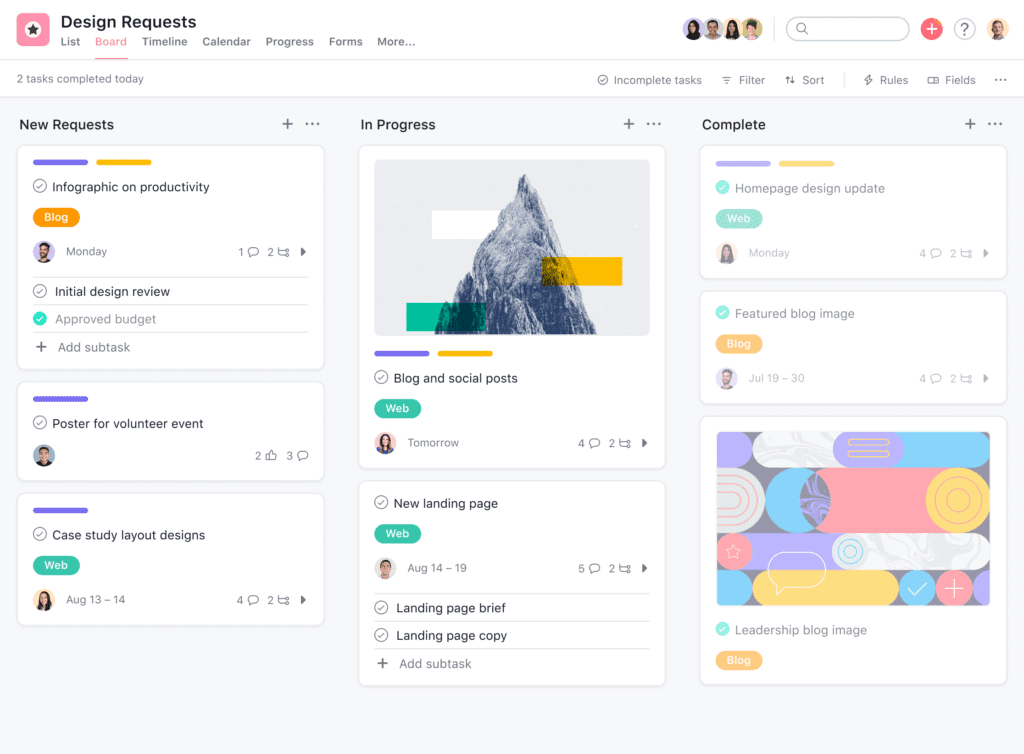 In conclusion, no matter what your organizational style or career aspirations, there's an online tool that can help you—Google Sheets, Airtable, or Asana. Your job search is a big task, but with the right tools in place, it can be that much easier. Start today with finding the perfect fit for your job searching needs and take control of your future. 
Visit the websites to see how these tools can help move your career goals forward and even help you remove some of the tedious administrative work associated with resumes and applications. With more time on your hands, you'll be able to delve even further into achieving success in the professional world!