How Social Media Can Help With Your Job Search
Did you know that 4.48 billion people use social media worldwide? More interesting is, 82% of people 13+ are active on social media in North America.
Social media has become a significant part of everyone's lives. From having only 5% of U.S. adults active on social media back in 2005 to having over 70% of U.S. adults active today, social media has seen a significant increase in activity over the last 15 years. Today, individuals are making six figures being social media influencers just by posting daily on these platforms. Now, you may not become a social media influencer using social media, but you may be able to find your next job using it.
Back ten years ago, people found jobs using Craigslist, newspapers, and visiting companies in person. From the introduction of Indeed and ZipRecruiter, many companies that used to help with the job search have become significantly less popular. 
However, over the last couple of years, we have seen Social Media platforms like Facebook and LinkedIn challenge these job board powerhouses to be leaders for helping people find jobs in their area. If you go on Facebook right now, you can find more than 100 job openings posted for you to apply. Job postings are not the only way social media platforms can help with your job search, here are other ways that social media can help you find your future career.
Advertising Yourself
One primary reason to use a social media platform to find a job is to advertise yourself to potential employers. Why would you need to do this? In the next 10 to 20 years, there will be no such thing as a resume, or it will be very different than what we call a resume today.
Take the time to improve upon your social media pages for potential employers to see. Delete all old photos and posts that are inappropriate, and most importantly, update your LinkedIn page. LinkedIn is by far a better source for candidates to find work than Facebook. Over 80% of recruiters use LinkedIn daily to source candidates. However, don't skip over-improving your Facebook.
Even though only 55% of recruiters use Facebook to source candidates, the majority of them will look into your Facebook profile if they are considering hiring you. Recruiters and managers do this to make sure a candidate is a right fit for the position. So if you are seeking work, make sure to improve your Facebook profile.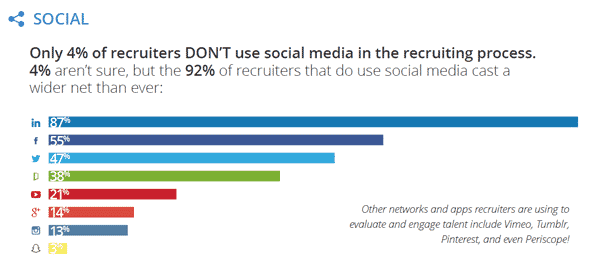 Creating Your Network
Even though it is somewhat an invasion of privacy, some companies still are in the old habit of looking through your social media accounts to see if you will be the right fit. In this case, prove to them that you are.
Make sure to take down all those photos of you partying and change them to more professional/ family-friendly posts. On LinkedIn, avoid any posts you would put on Facebook. LinkedIn is much more professional, so make sure your pictures of yourself include dressing professionally and using professional language.
Highlight some of your accomplishments of 2021! Whether that is a promotion at your current work or an award you received in school, post it! The more you interact on social media, the higher chance someone will recognize your worth.
Our Conclusions
Improve your social media to benefit your job search. 10.2 million people got their current job from applying on LinkedIn, 8 million on Twitter, and 18.4 million on Facebook. Social media is the new way, and it is better to improve your accounts sooner than later.
We will see these numbers increase more over the years until social media is the best way to find a new job. Always keep up to date on new social media platforms coming out to get a competitive advantage over your competition.
Keep this in mind the next time you decide to post something on your social media. According to a survey by CareerBuilder, 70 percent of employers "use social media to screen candidates before hiring." Even more striking is the follow-on statistic: 54 percent of employers surveyed said they chose not to hire a candidate based on content found on their social media profile(s)."
Source: Inc.com
For more information or to look for job opportunities in your area, check out our website at www.citypersonnel.net or call 401.331.2311.