A phone interview can be just as important as an in-person interview. In some cases, it may even be more important because the hiring manager cannot see how you look or judge your body language. That's why it's so important to prepare for a phone interview like you would for an in-person interview. In this blog post, we will discuss tips from an expert that will help you master a phone interview!
How To Prepare for a Phone Interview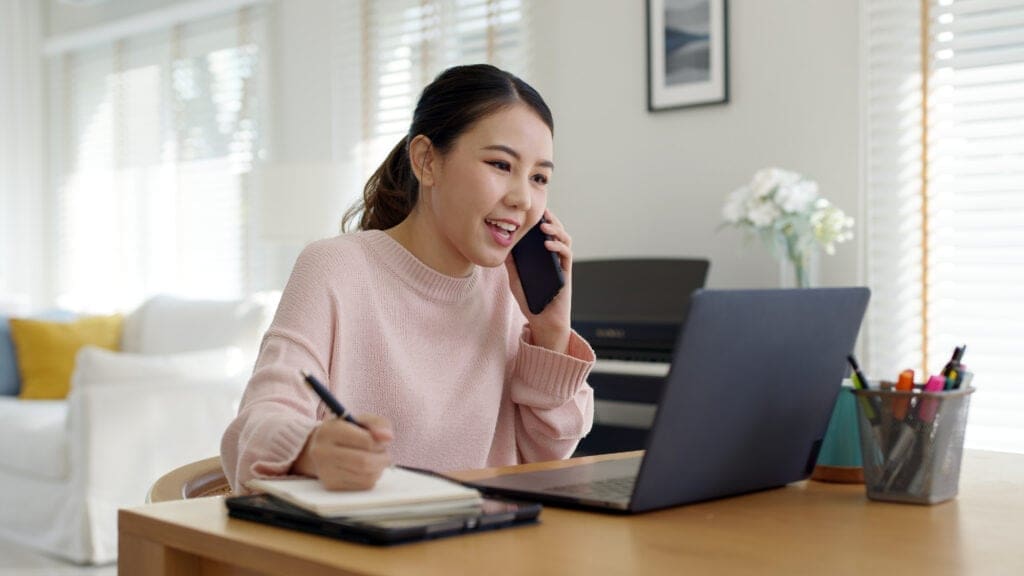 Phone interviews are becoming increasingly popular, especially in the early stages of the job interview process. While a phone interview may not be as daunting as an in-person interview, it is still important to prepare adequately. 
One of the most important things you can do is research the company before the interview. Take some time to familiarize yourself with the company's history, mission, and values. This will not only give you a better understanding of the role you are applying for, but it will also help you to form thoughtful questions to ask during the interview.
Review the job listing carefully and ensure you clearly understand the requirements and responsibilities of the role. This will help you to prepare questions in advance that you can ask during the interview. It is also a good idea to prepare a few talking points so you can confidently speak about your experience and qualifications.
Phone interviews provide an opportunity to make a good first impression, so take advantage of it by being prepared and professional.
Have Your Job Materials Nearby
When you're getting ready for a phone interview, it's important to have all of your materials nearby. This way, you can quickly refer to them if you need to. Make sure you have a copy of your resume and the job listing or description. You might also want to have a pen and paper handy to take notes during the interview. And, of course, make sure your phone is fully charged! 
Once you're prepared with your materials, take a few deep breaths and relax. Phone interviews can be daunting, but if you're prepared and stay calm, you'll do great.
Practicing for a phone interview is just as important as preparing for any other type of interview. After all, you want to make a good impression on the hiring manager and demonstrate that you are the right candidate for the job. So what can you do to prepare? 
First, it's important to understand the format of a phone interview. Unlike in-person interviews, phone interviews are usually shorter and more focused on specific questions. As a result, you'll need to be concise in your answers and be able to discuss your skills and experience in a clear, concise manner. 
Go ahead and practice with a friend or family member. Have them call you and ask you common interview questions.
Set Up a Professional Voicemail
Sometimes a phone interview can come out of nowhere. After applying for a few positions online, employers' first contact with you may be a quick phone call rather than an email or text to schedule a time to talk.
I am sure most of you aren't quick to pick up the phone from a number you are unfamiliar with. If this is the case, make sure you have a professional voicemail. In the event an employer calls without a heads up, and you are too busy to pick up the phone, you will want your voicemail to be professional.
This means having a clear, concise message that gives your name and contact information. You should also avoid using informal language or jokes in your voicemail. Instead, keep it simple and straightforward. This will help to ensure that the interviewer takes you seriously and knows how to reach you.
Proper Phone Interview Etiquette
When you're expecting a phone call from a potential employer, it's important to be prepared. First and foremost, make sure you answer your phone! This may seem like a no-brainer, but you'd be surprised how many people miss calls from employers because they're not paying attention to their phones.
Also, if you are the type to ignore calls from unknown numbers, make sure you are answering these calls when you are on the job search.
When you answer the phone, respond with your name. You can say, "This is Jane Doe" or "John Smith speaking!" That way, the interviewer will know they've reached the right person.
Find a Quiet Place to Talk
One of the benefits of phone interviews is that they can be conducted anywhere, at any time. This can be a great convenience if you're working or have other commitments during business hours, but it also means that you must be prepared to take the call anywhere, anytime. 
One way to ensure you're able to give your best interview is to find a quiet place to talk where you won't be interrupted. This may mean setting up in a quiet room at home or even stepping outside for a few minutes. By taking the time to find a quiet spot, you'll be able to focus on the conversation and make a good impression on the interviewer.
Background noise can also be distracting for both parties, so try to find a place where you can talk without any distractions.
Follow the Interviewer's Lead
Phone interviews can be just as challenging as in-person interviews, if not more so. You can't rely on body language or nonverbal cues to give you clues about how the interviewer is feeling, so it's important to be attuned to the words they use and the tone of their voice. One tip is to mirror the interviewer's style. If they're formal, stay formal. If they're more relaxed, you can be too.
Be prepared to engage in small talk. Some interviewers may wish to spend the first few minutes discussing the weather. Others may want to get right into the interview. Whatever the case may be, it is important to let the interviewer guide the conversation.
Listen carefully so you can answer questions when asked. The last thing a recruiter wants to do is repeat all the questions they ask you because you weren't paying attention. Also, if they are speaking, avoid cutting them off.
Tips for Acing a Phone Interview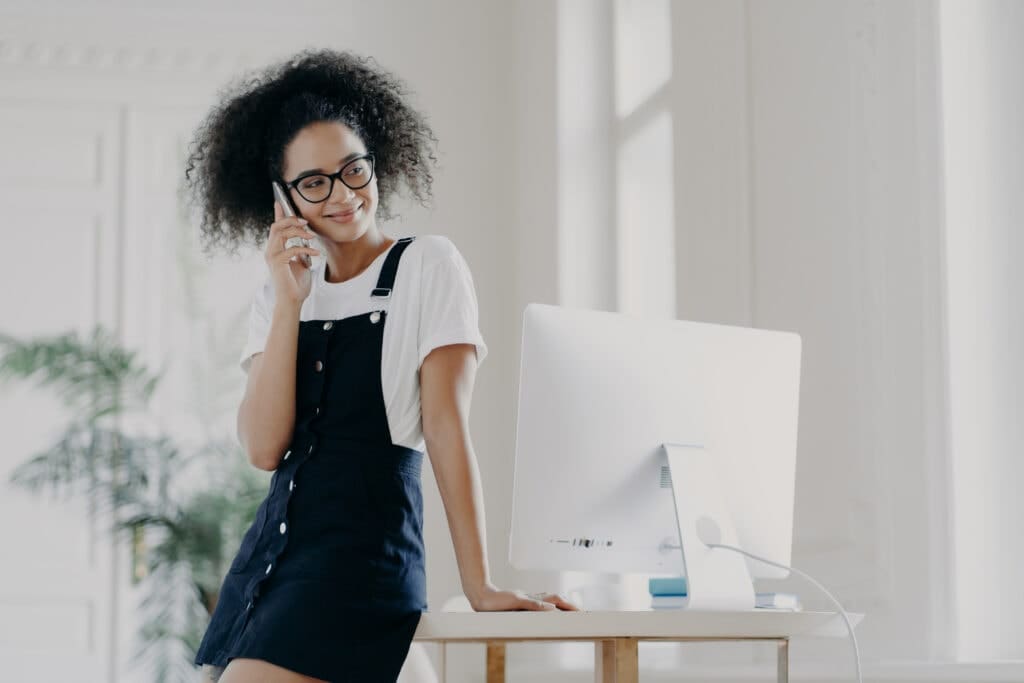 You should create a list of how your qualifications match the hiring criteria so you can glance at it during an interview. This will ensure you can quickly provide examples of how you are the best fit for the position.
Be Prepared to Take Notes
Have a pen and paper ready to take notes. Some of the notes you may write down include the interviewer's name, important information like the office's location, and any other important details regarding the position.
Also, rather than cutting off your interviewer to ask a question, take notes on the question you want to ask and ask it towards the end of the interview.
If you are on your mobile phone, make sure to put notifications on silent when starting the interview. The best way to do this is to put your phone on "Do Not Disturb" after you pick up the phone to ensure it does not buzz or beep when you receive text messages.
Don't make the mistake of silencing your phone before getting the call from the interviewer.
During the phone interview, ensure you aren't chewing gum, eating, or drinking. However, keeping a glass of water handy to drink when you are not answering questions is okay.
Follow Up After the Interview
When the interview ends, you will want to make sure you thank the interviewer. And if you don't already have it, this is the perfect opportunity to ask for the interviewer's email address.
Once you have the email address, send a thank-you email immediately. In the email, thank the interviewer again and reiterate your interest in the job. This is also an excellent opportunity to mention anything you didn't get a chance to during the phone interview. 
For example, if there was something you wanted to elaborate on but ran out of time, this is your chance to explain yourself. Keep it brief – you don't want to overwhelm the interviewer with too much information.
Following up after an interview is a great way to show your appreciation and interest, so take advantage of this opportunity.
One of the most important things to remember during a job interview is to speak clearly and slowly. This can be difficult if you get nervous, but the interviewer must understand what you are saying. If you mumble or speak too quickly, they may not be able to understand you, and this could lead to them not hiring you.
Taking a deep breath and speaking slowly will help the interviewer understand you better and make you appear more confident.
Are you preparing for a phone interview? By following these tips, you can make a great impression on the hiring manager and increase your chances of getting the job! Check out our other tips on our website!