Speed Up the Hiring Process Without Affecting Quality
Your business thrives because of the employees you have. Even Forbes agrees in their article titled, "Five Reasons Employees Are More Important Than Customers." This is why companies like Chick-fil-a focus more on customer service with their employee training than anyone else in the industry. One inadequate employee could ruin your company's reputation, and reputation is critical for success. The hiring process can be long and extensive, but here are proven ways to speed up the hiring process for your company.
According to Jobvite's 2019 Recruiting Benchmark Report, the United States' average hiring process takes around 38 days. This number can range anywhere from 8.5 days for a delivery driver or close to 54 days to hire a Government employee. As an employer, you know time is money; this is why we will go over proven ways to speed up the hiring process.
Let's first start by saying, the hiring process is one of the most critical parts of a company's success. One bad employee can hurt your company's reputation and cost you around 30% of that employee's first-year earnings. According to the Undercover Recruiter, bad hires can cost a company up to $240,000 in expenses. This expense includes costs related to hiring, pay, and retention. Because of these expenses, we strongly discourage taking shortcuts. Instead, follow these simple steps to speed up the hiring process.
Look Internally
Promoting internally in your business should be every companies' first option when a position opens up. Did you know, 50% of all jobs are filled internally before being introduced to the public? Companies like Apple, CVS, Google, Facebook, and many more have done this and seen tremendous success.
Before we look into the analytics of hiring internally, remember, hiring internally will boost morale inside the office (Already know the manager because they have worked with them before), while not having to worry about an outsider coming into the company and ruining the moral and culture within the office.
Sometimes the best employee is the one you already have. Now, let's look at this infographic: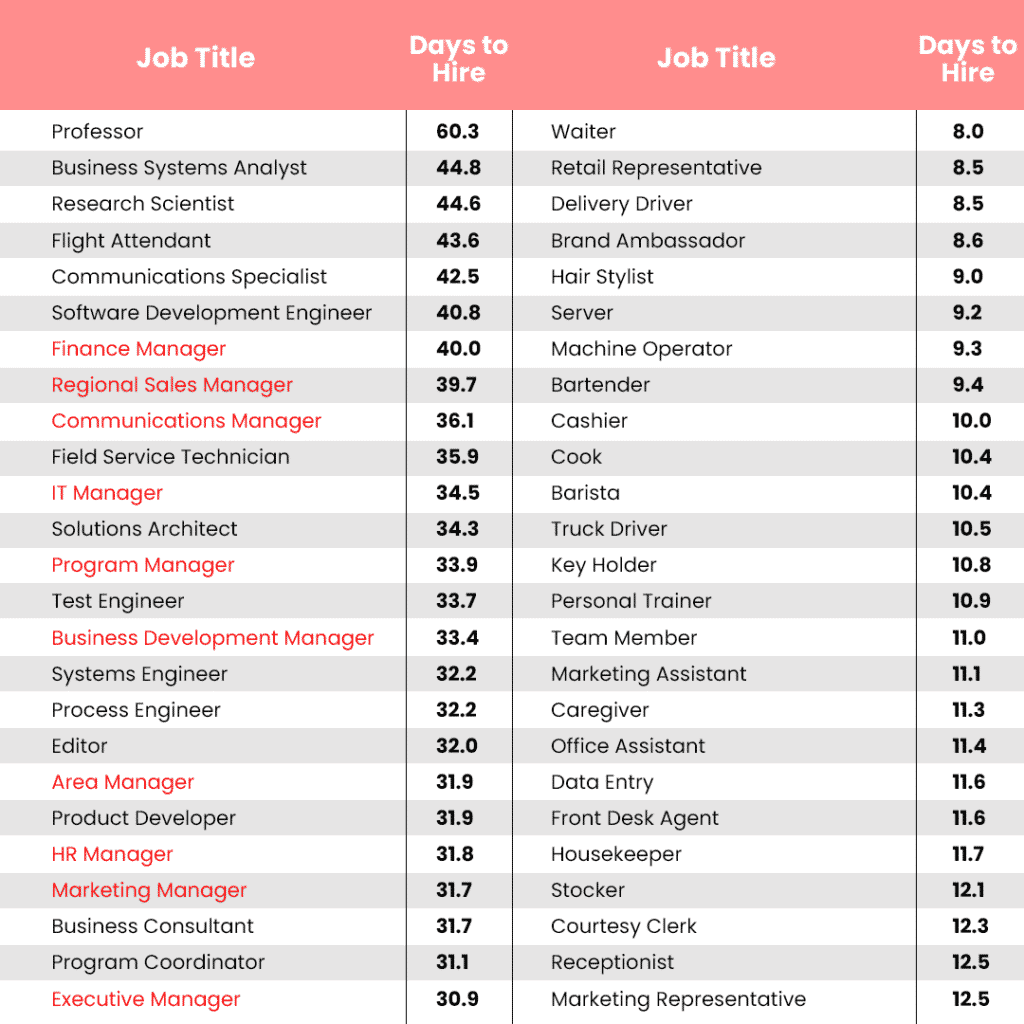 This infographic shows the average days to hire a candidate based on their position title. On the left side are the 25 jobs with the most comprehensive hiring process, and on the right is the lowest. As you can see, I highlighted the management positions in red. 40% of the jobs that take the longest time to hire for are management positions. 0 management positions are filled under 13 days on average.
Quicker to Promote from Within
Why bring up management positions? Well, usually nine times out of ten, someone in your company has management skills and aren't currently in a management position. For this reason, hiring from within (promoting) is the best option to speed up hiring.
Take a look at the chart. On the right column, we a Marketing Assistant and a Marketing Representative. On the left, we have a Marketing Manager. Let's create a scenario. You are currently the CMO (Chief Marketing Officer), and your Marketing Manager just put in their two weeks' notice. You now have two weeks to set up a job description, post the job, screen candidates, interview, hire, and train a new employee. However, the Marketing Manager's hiring duration takes, on average, 31.7 days. More than likely, you will be without a manager for a couple of weeks after your Marketing Manager leaves if you choose to hire externally.
However, if you choose to hire internally, this process can speed up immensely.
If you choose to promote your Marketing Representative to Marketing Manager, you will eliminate having to write a job description, post the job online, screen candidates, interview, and train. Not only that, but to replace the Marketing Representative position, it will only take you on average of 12.5 days to fill the position, rather than 31.7 for a Marketing Manager.
If you choose to promote the Marketing Assistant, you will speed up the process to 11.1 days. In this case, hiring internally would increase the speed of the hiring process by at least 60%.
Transparent Job Description and Application Process
A well-written job description gets you 5x more job applications than one that is written poorly. Are you clearly explaining the pay rate, requirements, daily tasks, location, etc.? If you do not have bolded titles breaking up each section, then more than likely, a candidate will not apply for the position.
According to the Wall Street Journal, applicants spend 25.9 seconds reading a job description and 23 seconds on the company's description. That means you have under 1 minute to catch the attention of an applicant. Don't overcomplicate the process.
According to CareerBuilder, 60 percent of job seekers give up on a job application because of its length or complexity. You could be missing out on 60% of candidates if you are too descriptive in your job description, or the process is too long. Unfortunately, we are in the age of instant gratification. Any method that is longer than 5 minutes with an unpredictable outcome goes typically uncompleted.
According to a study from Appcast, recruiters boost conversion rates by up to 365% when they reduced the application process to 5 minutes or less.
The ideal application process should be no longer than 5 minutes, and the job description should be around 170-250 words to improve the conversion rate by 5x, according to SHRM.org. Make sure to remove any jargon, include a job title that reflects the industry standard, incorporate 5-10 key job responsibilities, and include the job's location!
Lastly, remember the importance of job requirements. 42% of job seekers apply to jobs they do not qualify for. Create a job description that helps human resources or your staffing agency identify the best candidates to send over to you. Having a well-written job description will prevent you from denying multiple candidates due to not having the right qualifications, saving time and money.
However, keep in mind that too many job requirements will turn away candidates. Ensure only to include the necessary requirements and take off any requirements that you can train for in-office.
Choose the right Job Board
Choosing the right job board is another great way to speed up the hiring process and get higher quality talent. When was the last time you applied for a job on craigslist? I am sure 90% of you will either say never or not in the previous five years. Craigslist has gone from one of the leaders for the job search to being overlooked by most companies. Yes, companies still post on craigslist, but usually, the jobs posted on there will be entry-level that don't require the best candidates.
Below is a list of the best job board sites for your job openings. Looking for managers? Check out The Ladders. Looking for remote employees? FlexJobs is the best place to post. Feel free to mix and match these job boards for your job postings to best benefit your company!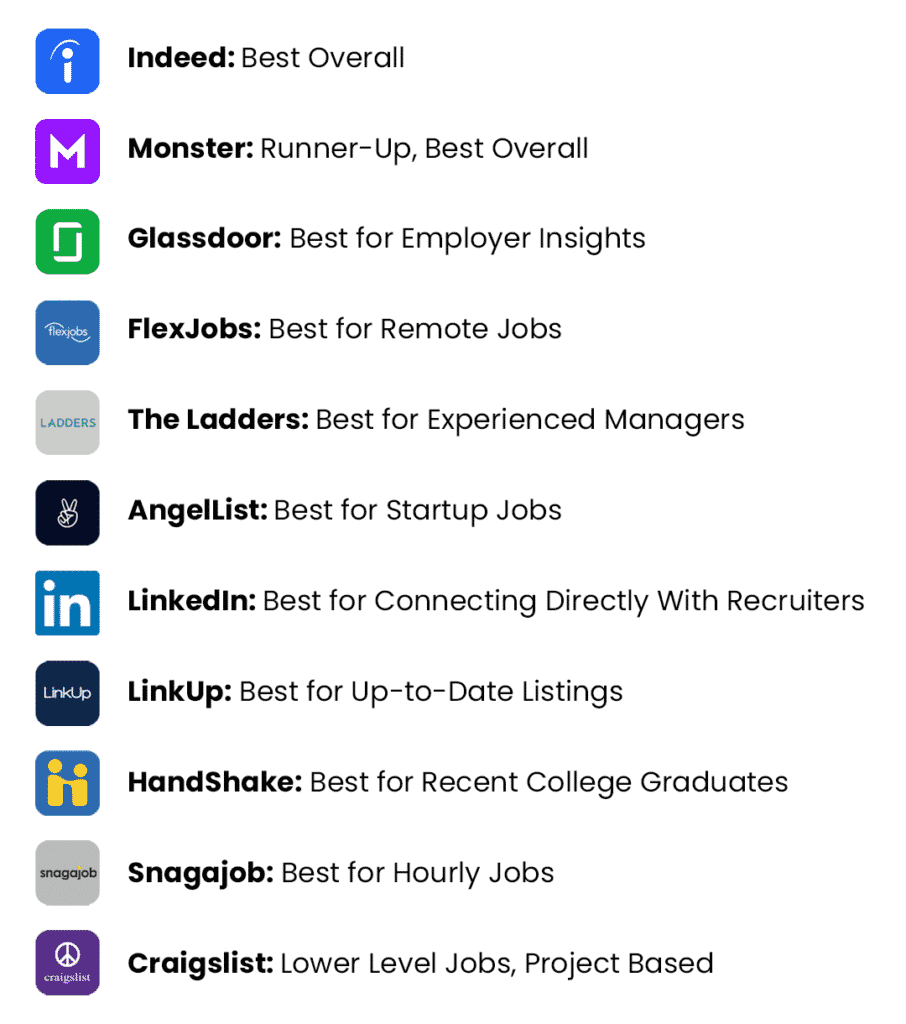 Some may say, "Can't I just post on all of them?" The answer is yes, but you shouldn't. The reason for this is because sometimes posting on job boards can be a waste of time. What I mean by this is if you are looking to hire an experienced manager, more than likely, no experienced manager will be looking for jobs on HandShake or Craiglist.
Putting a job opening on multiple job boards will get you more candidates. However, depending on the job board you post on, the candidates may be significantly underqualified, costing you time and money sifting through resumes. To speed up sifting through resumes, here are 5 tips.
The best way to get your job opening is by putting them online. According to the Jobvite 2019 Recruiting Benchmark Report, almost 50% of all applications come from Job Boards, followed by 35% from Internal Career Sites. Out of all of those applications sent for a job, less than 1% get the job. Make sure to pick the right job board to increase this number because it is better to get fewer applications if the applications are from higher-quality candidates. Lack of high-quality candidates is the biggest challenge for 67% of recruiters (Zety), so make sure to post on the right job boards to recruit the right talent.
We didn't get too into Social Media and their job boards. However, here is a fantastic article written on how social media can help your job search including how many people applied for their current job on Social Media.
Flexible Interviews
According to Mental Health America, in their recently published Workplace Health Survey in 2017, 70% of employees are actively seeking new job opportunities. More recently, due to COVID-19, I am sure this percentage lowered lightly. However, it is still essential to understand that the candidates applying for your job opening more than likely have another job.
If 70% of already hired employees seek work, close to 90% of the people applying for your open position are employed. The majority of these individuals are working either 8-4 or 9-5. Are your business hours able to accommodate those who are also currently working? More than likely, no. That is why flexible interviews are so important.
Having flexible interviews, such as after their shift is over or before their shift starts, will benefit you immensely in the long-run.
Most of the top talent out there will already be employed by another company. Make sure to make your schedule flexible to best benefit your company's goals in the hiring process.
Another tip… if you found a star candidate and they are requesting to work from home a few days a week, sometimes it is better to accept that than keep looking in this candidate driven market.
Don't Delay Job Offers
Delaying a job interview is one of the most common mistakes that employers make that extends the hiring process. Look at it this way, if you find a great candidate to fill your job opening, more than likely, they applied to other jobs, and those other companies thought the same thing. Make sure to be the first to offer a job to that candidate if you think they will be the right fit. Waiting over three days to make a job offer will lower your chances of hiring them.
Delaying is also common in job interviews. When someone applies for your job opening, check the application immediately. The worst thing you can do is wait a week to call them and find out they got a job offer from another company that they applied for on the same day as yours.
According to The Balance Careers, job offers are usually received within 24-48 hours of interviewing. Don't wait, or you may miss out on great talent and have to start the whole process over again.
Look Externally for a Staffing Agency
These are the best ways to speed the hiring process without the expense of quality. There are staffing and temp agencies that are professionals in filling your job openings with top quality candidates quickly. If you are having trouble with the hiring process, and need extra outside help, reach out to City Personnel at 401.331.2311. A quick and efficient hiring process will set your company apart from the competition!