According to recent reports, the number of layoffs in the United States is rising. In fact, it has been estimated that over 2 million Americans will lose their jobs in the next year. This is a troubling trend, and it is important to understand what it means for the future of our economy. In this blog post, we will explore the reasons behind the rise of layoffs and discuss some of the possible consequences. We will also offer some advice for those who have recently lost their jobs.
Companies Who Have Laid Off Employees
In 2021, there was a significant increase in job openings, leading to millions of those laid off in 2020 to return to work. Our economy was also back to normal after the stock market crash in 2020.
Even at the beginning of 2022, Americans were hopeful that our economy would continue to grow. Unfortunately, we have seen that this is not the case. Now, many financial institutions are predicting a recession before the end of 2022.
One way companies are preparing for the recession is by laying off their employees. Here are some of the biggest layoffs this year so far:
Pharmaceutical giant Novartis plans to cut 8,000 jobs, or more than 7% of its workforce, as it aims to save at least $1 billion over the next two years. The drugmaker announced changes in April, and CEO Vas Narasimhan estimated cuts would be in the "single-digit thousands."
The tech industry has long been known for its high salaries and generous benefits, but that will also change. According to The Wall Street Journal, big tech firms are starting to lay off workers or scale back on hiring in preparation for an economic slowdown.
Reuters reports that Facebook parent Meta is bracing for a recession by aggressively pulling back on hiring. CEO Mark Zuckerberg said the company will bring on roughly 30% fewer engineers in 2022 than it originally planned, slashing the number from 10,000 to between 6,000 and 7,000. Zuckerberg warned employees that he was expecting "one of the worst downturns that we've seen in recent history," and said Meta would also be "turning up the heat" on staffers by implementing more stringent performance goals.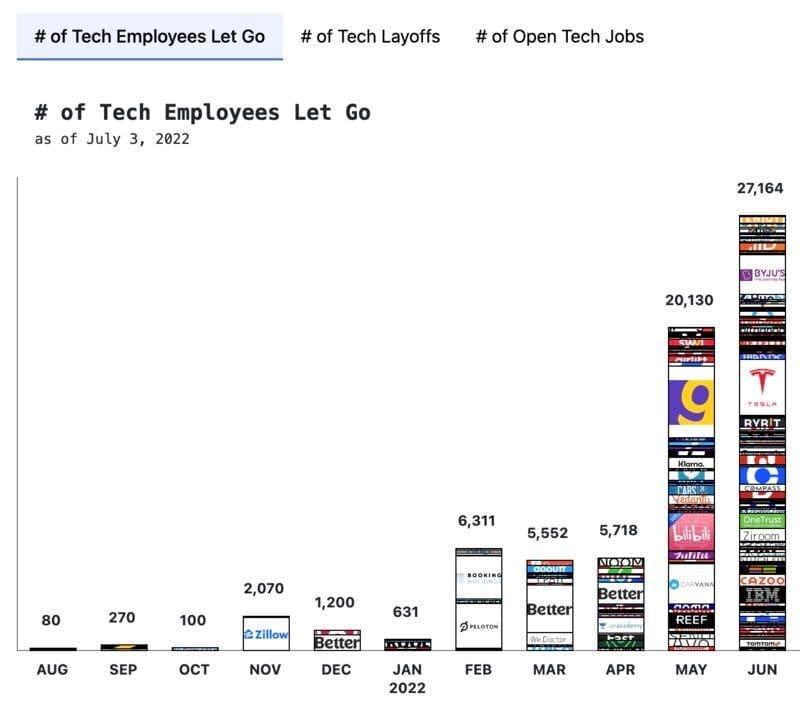 Pokemon GO developer Niantic also announced they recently laid off 8% of their employers. While the layoffs at Niantic may have been the most high-profile in San Francisco, they were far from the only ones. Four companies announced cuts affecting hundreds of employees, leading to a feeling of anxiety and uncertainty among many workers in the city. For Pokémon GO developer Niantic, these cuts come as a surprise given the company's strong performance in recent months. However, it is clear that even well-established businesses are not immune to the effects of the current economic climate.
Unity, a game development tools provider, has laid off hundreds of employees, Protocol reports. The company employed as many as 3,300 as of June 2020, the year it went public, but its stock price has fallen more than 40% since then. Unity has been hit hard by the COVID-19 pandemic, as the gaming industry has been one of the hardest-hit sectors. The company has been forced to make significant cuts to its workforce to stay afloat.
HomeLight, a 10-year-old real-estate company valued at $1.7 billion, announced that it laid off 19% of its workforce. The company attributed the layoffs to "recent challenges in the economy."
Substack, a newsletter startup valued at $650 million, laid off 13 of its 90 employees about a month after ditching efforts to raise money because of the economic downturn. The company has been growing rapidly since it was founded in 2017, but the pandemic has caused many advertisers to pull back, leading to a sharp decline in revenue. To survive, the company has had to make some difficult decisions, including laying off a significant portion of its workforce. While it is unclear how the company will fare in the long term, it is clear that the pandemic has had a considerable impact on its business.
In a LinkedIn post, Eugina Jordan, Vice-President of Parallel Wireless, announced that the New Hampshire-based company was cutting an undisclosed number of employees.
Qumulo, a Seattle-based data storage provider, also announced layoffs, with about 80 people losing their jobs.
Ironically, Hopin's rapid expansion may have led to its current problems. The company has been on a buying spree over the past year, snapping up five other startups to grow its market share. However, this growth has come at a cost. Hopin has been forced to lay off 29% of its workforce to cut costs. The cuts come just four months after the company laid off 138 workers in a similar cost-saving effort. It is clear that Hopin's pandemic-fueled growth has begun to sputter, and the company will need to find a way to stabilize its finances if it is to survive in the long term.
Twitter also announced that it laid off nearly a third of its talent acquisition team.
There are hundreds of more companies who have had layoffs recently that we weren't able to add, but this just shows that the current economy has many worried about losing their jobs.
Reasons for Layoffs in 2022
The next few years are going to be tough for American workers. The pandemic has already resulted in widespread layoffs, and the economic downturn will likely continue. Many experts believe the job market won't fully recover until 2024 or 2025. In the meantime, there are several factors that could lead to even more layoffs in 2022.
First, the end of federal unemployment benefits is likely to result in a wave of job cuts. Companies will no longer be incentivized to keep workers on the payroll, and many will begin downsizing their workforce. Additionally, the expiration of the payroll tax cut could also lead to more layoffs. Many will be forced to reduce their staff as businesses struggle to cope with the additional costs.
One main reason for the current layoffs is the result of businesses growing too quickly. One year ago, our economy was booming, which resulted in many companies (especially tech companies) adding thousands of team members to their team. Due to the quick addition of thousands of employees, many companies weren't prepared for the economy to decline as much as it has.
With the economy declining as it is right now, many companies that added employees in 2021 now are expected to lay off most of those additions due to the decrease in business they are receiving. Additionally, we may see those layoffs increase immensely if we do go into a recession.
Rising interest rates could also be a problem for businesses. Higher borrowing costs will make it more difficult for companies to expand or invest in new projects, leading to more job cuts. While it's impossible to predict the future, it's clear that American workers will face challenges in the coming year. Hopefully, the economy will recover soon, and jobs will become more plentiful. But in the meantime, workers should be prepared for more challenging times ahead.
Possible Consequences of Layoffs
Laying off employees is never an easy decision for a company to make. Unfortunately, it is sometimes necessary to keep the business afloat. There can be several consequences when a company lays off employees.
First, it can affect morale among the remaining staff. Employees who have been laid off may feel resentful towards those still employed, which can lead to tensions and conflict within the workplace. Also, employees may feel like they are next in the layoffs, forcing them to look for new jobs while still employed.
Layoffs can also damage a company's reputation, making it difficult to attract new customers and employees. One example of this is the mortgage company Better.com, which was in the news recently for laying off 900 employees over a Zoom call. Because of this, social media exploded, making many decide never to do business with Better.com again.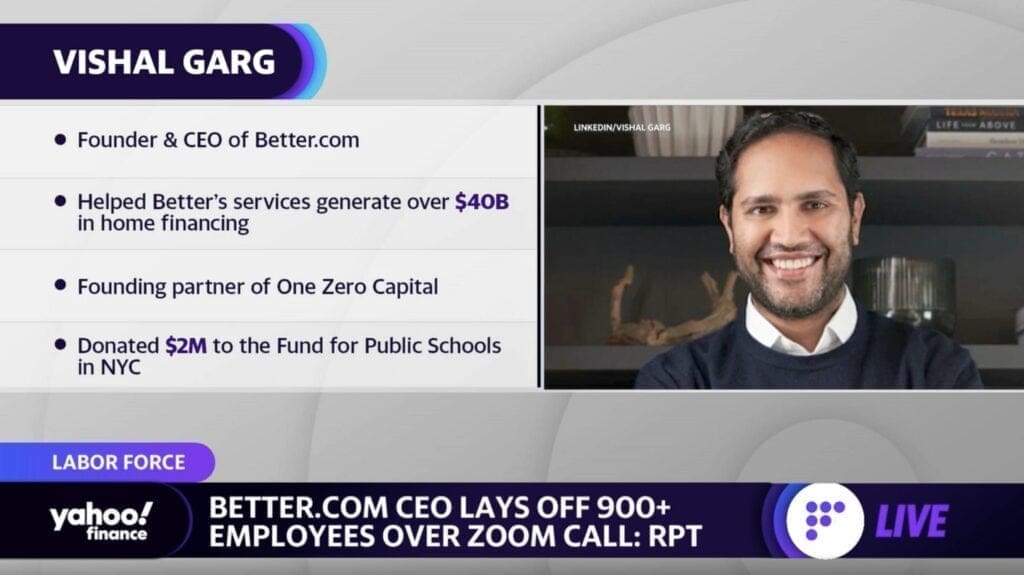 Advice for Employees Who Are Laid Off
Losing your job can be a devastating experience. But it doesn't have to be the end of the world. Here are some tips for getting back on your feet after a layoff:
First, take some time to grieve. After being laid off, feeling angry, sad, and even scared is expected. Allow yourself to process these feelings before moving on.
Next, update your resume and start networking. Attend industry events and job fairs. Get in touch with friends and colleagues who might be able to help you find your next opportunity. And don't forget to use social media to connect with potential employers.
Finally, focus on taking care of yourself. This is a stressful time, so eat healthy, exercise, and get plenty of rest. Taking care of yourself will help you stay positive and focused as you search for your next job.
Track the Rise of Layoffs
To see up-to-date news on all the companies laying off employees, check out @Layoffsfyi on Twitter. Layoffs.fyi tracks tech startup layoffs and lists of employees laid off to give them exposure to companies still hiring, which shows how amazing the community is to help others find work.