In today's job market, companies of all sizes are looking for ways to quickly and efficiently find qualified candidates. Using AI tools for recruiting potential employees is one of the best ways to reduce costs as it can help automate tasks such as screening applications, interviewing potential candidates, and more.
To give your company an edge when hiring new personnel, here are the top 5 AI tools for recruiting candidates that you should consider: ChatGPT, Fireflies.ai, ConverzAI, Sense, and Seamless. Each of these provides a unique set of features that can help you optimize and streamline your recruitment process, enabling you to identify and select the right candidate with maximum efficiency!
Introducing ChatGPT - an AI-powered chatbot for recruiting candidates
Pricing: Free for ChatGPT 3.5, $20/month for ChatGPT 4
In the ever-evolving landscape of HR and recruitment, AI tools like ChatGPT are becoming game-changers. As a recruiter, you're constantly juggling various tasks – from sourcing candidates to conducting interviews, and managing communication. But what if there was a way to streamline these processes, saving time and enhancing efficiency? Enter ChatGPT.
ChatGPT, powered by OpenAI's GPT-3.5 model, is an advanced language AI model that can understand and generate human-like text based on the prompts given to it. It can be your virtual assistant, helping you manage several aspects of recruitment.
For instance, let's say you need to screen a large number of resumes for specific skills or qualifications. Instead of manually going through each document, you could use ChatGPT. Just set a prompt like, "Review the following resume and list the key skills and qualifications." The AI will then scan the input and provide you with a summarized list.

Review the following resume and list the key skills and qualifications.
Marketing Coordinator
Sep 2019 – Present · 3 yrs 11 mos
• Worked with CEO to develop advertisements for social media platforms
• Design and maintain website to create easy navigation to boost applications
• Increased impressions on Facebook and Instagram by running advertisements
• Joined College Career Fairs to increase applications
Social Media Marketing Specialist
Jan 2020 – Mar 2023 · 3 yrs 3 mos
Marketing Coordinator
Jul 2019 – Jan 2020 · 7 mos
• Collaborated with each employee to create business cards specialized to each individual
• Designed all signage and advertisements for company events, home office, etc.
• Launched and Created a new Facebook and Instagram account to increase impressions
• Designed attractive logos and media templates for rebranding
• Worked with CEO to design and maintain website
• Collaborated with each employee to create business cards specialized to each individual 
• Designed all signage and advertisements for company events, home office, etc.
• Launched and Created a new Facebook and Instagram account to increase impressions
• Designed attractive logos and media templates for rebranding
• Worked with CEO to design and maintain website
Sales Representative
Jun 2019 – Jul 2019 · 2 mos
• Evaluated leads obtained through direct referrals, lead databases and cold calling
• Met with existing and prospective clients each week to select appropriate insurance policies
• Provided extensive product presentations with strong customer service skills, allowing for strong report building, and confidence in overcoming objections.
• Worked with Police, Firefighters, Labor Unions, and Veterans on various insurance benefits
• Calculated quotes and educated potential clients on insurance options
Game Day Marketing Coordinator
Sep 2019 – Nov 2019 · 3 mos
• Worked with Marketing team on game day to make sure everything runs smoothly
• Tasked with running promotions on game day
The AI will then scan the input and provide you with a summarized list.
Based on the provided resume, here are the key skills and qualifications:
Digital Marketing:
Developed and implemented social media advertising campaigns.
Increased impressions on Facebook and Instagram through running advertisements.
Created and maintained websites for easy navigation and increased applications.
Launched and managed new Facebook and Instagram accounts.
Web Development:
Proficient in web development.
Worked on designing and maintaining websites.
Created attractive logos and media templates for rebranding.
New Business Development:
Skilled in new business development.
Collaborated with CEOs to develop advertisements for social media platforms.
Participated in college career fairs to increase applications.
Marketing Coordination:
Demonstrated marketing coordination abilities.
Coordinated with employees to create specialized business cards.
Designed signage and advertisements for company events.
Ran promotions and tasks on game days.
Sales and Customer Service:
Conducted lead evaluation and generated insurance policy quotes.
Met with clients to discuss insurance options and provided product presentations.
Developed strong customer service skills, built rapport, and overcame objections.
Worked with specific target groups such as police, firefighters, labor unions, and veterans.
Similarly, ChatGPT can help in crafting engaging job descriptions. Send a prompt like, "Create a job description for a Software Developer role requiring 5 years of experience in Python and knowledge of AWS."

Create a job description for a Software Developer role requiring 5 years of experience in Python and knowledge of AWS.
The AI will generate a comprehensive and enticing job description, making sure to include all necessary details.
Job Title: Software Developer (Python/AWS)
Location: TBD
We are seeking a highly skilled and motivated Software Developer with a strong background in Python and AWS to join our dynamic team. This role requires a professional with a keen eye for problem-solving, a passion for innovation, and the ability to work collaboratively within a team.
Responsibilities:
Develop, test, and maintain high-quality software.
Collaborate with the team to design innovative software solutions.
Utilize your expertise in Python and AWS to enhance our existing systems.
Debug software components and identify code for optimization.
Provide technical support and leadership on complex software problems.
Document all programming tasks and procedures for future reference.
Requirements:
Bachelor's Degree in Computer Science, or related field.
Minimum 5 years of experience working as a Software Developer with extensive use of Python.
Demonstrated knowledge of Amazon Web Services (AWS).
Excellent problem-solving skills and attention to detail.
Strong team player with excellent communication and interpersonal skills.
Knowledge of other programming languages and frameworks is a plus.
If you are passionate about technology, constantly seeking to learn and improve your skill set, then you are the type of person we are looking for! Join our team and be a part of our exciting journey into the future of tech!
We are an equal opportunity employer and value diversity at our company. We do not discriminate on the basis of race, religion, color, national origin, gender, sexual orientation, age, marital status, veteran status, or disability status.
ChatGPT can also assist in maintaining communication with candidates. For example, if you need to inform a candidate about the next steps after an interview, you can prompt ChatGPT with something like, "Draft an email informing the candidate about the successful completion of their interview and the upcoming process."

Draft an email informing the candidate about the successful completion of their interview and the upcoming process.
ChatGPT will then create a draft template to send to a candidate.
Subject: Congratulations on Your Successful Interview
Dear [Candidate's Name],
I hope this email finds you well. I am delighted to inform you that your interview for the [Job Title] position at [Company Name] was successful. Your skills and experience are impressive, and we believe you could be a great fit for our team.
The next step in your application process involves meeting with some of the key members of our team. This will be an opportunity for you to learn more about us, and vice versa. We believe it's crucial that our team members align with our culture and values, and this is part of ensuring that alignment.
Our HR department will be reaching out to you shortly to arrange the meetings. They will provide you with all the necessary details including the date, time, and format of the meetings.
In the meantime, if you have any questions or need further clarification on anything, please feel free to reach out. We want to ensure that you have all the information you need as we move forward in this process.
Once again, congratulations on your successful interview. We were impressed by your qualifications and are excited about the potential of having you on our team.
Best Regards,
[Your Name]
[Your Position]
[Your Contact Information]
In essence, ChatGPT is a powerful tool that can help recruiters manage their workload more effectively. By handling routine tasks, this AI assistant allows recruiters to focus more on strategic aspects, improving the overall efficiency and effectiveness of the recruitment process.
Fireflies.aI - automate your meeting notes
Pricing: Free Trial, $10/month for Pro
In the digital age of recruitment, tools like Fireflies.ai are revolutionizing the way HR professionals conduct and analyze interviews. With its ability to transcribe, summarize, and analyze voice conversations from Zoom interviews and other video-conferencing platforms, Fireflies.ai is an invaluable tool for recruiters aiming to streamline their process and enhance candidate evaluation.
Imagine being able to review an hour-long interview in just 5 minutes. With Fireflies.ai, this becomes a reality. The platform uses AI-powered search to pinpoint key topics discussed during the interview, allowing recruiters to focus on the most critical aspects of the conversation. This effectively reduces the time spent on post-interview analysis, freeing up valuable time for other important tasks.
Inviting Fireflies.ai Notetaker to meetings is as easy as a few clicks on your calendar. Once present, it captures both video and audio, generating transcripts within minutes. This not only provides a written record of the conversation but also allows for more comprehensive review and analysis.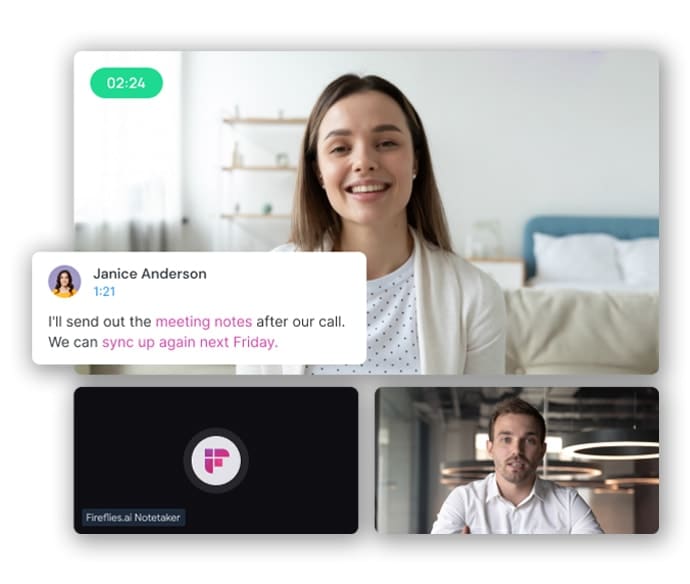 Fireflies.ai's integration with various platforms such as Google Meet, Zoom, Teams Webex, Ringcentral, Aircall, and more, makes it a versatile tool that fits seamlessly into your existing recruitment process.

The platform's ability to highlight action items, tasks, questions, and other key metrics with just one click further enhances its value. These features allow recruiters to quickly identify vital information and make informed decisions.
By leveraging the power of Fireflies.ai, recruiters can ensure a more efficient, accurate, and thorough evaluation process. It's about working smarter, not harder, and Fireflies.ai is here to help recruiters do just that.
ConverzAI - Voice AI Recruiter
One advancement transforming the HR landscape is ConverzAI, a voice AI platform designed to streamline the recruitment process.
Imagine having an AI assistant that can autonomously call and screen candidates for you, delivering a concise summary of the phone call straight to your inbox. This is exactly what ConverzAI offers. It's like having an extra pair of hands, enabling you to focus on other critical aspects of the recruitment process while it handles initial candidate engagement.
The platform's workflow begins by automatically sourcing candidates from your Applicant Tracking System (ATS). Once the candidates are identified, ConverzAI gets to work, engaging with candidates through phone calls, voicemails, emails, and texts. This level of engagement at scale is unprecedented and can significantly speed up the initial screening process.
After the AI has interacted with the candidates, recruiters can review a summary of each engagement, making it easier to assess the suitability of candidates for the role. This not only saves time but also ensures a more objective initial screening.
Finally, with the insights provided by ConverzAI, recruiters can make faster placements, accelerating the overall recruitment process.
ConverzAI is currently only working with larger agencies. However, it's a platform worth keeping an eye on as it represents the future of recruitment – a future where AI and humans work together to create efficient, effective hiring processes.
Sense - Automated Emails and Texts
Pricing: It depends on size of agency, phone numbers, add-ons, etc.
In the competitive world of recruitment, engaging with candidates effectively and efficiently is crucial. Sense, a cutting-edge messaging platform, offers recruiters a powerful tool to do just that – meet candidates where they are: on their phones.
Sense Messaging allows for seamless transition from 1:1 messaging to customized broadcasts, enabling personalized communication at scale. But it's not just about volume; it's about timing too. Sense ensures that the right message reaches the right candidate at the right time, automating personalized journeys across the entire recruitment lifecycle. This frees up valuable time for recruiters to focus on the human elements of recruiting, retention, and sales.
Let's face it, the job-seeking process can be daunting for candidates, often applying to multiple jobs in one session. Sense's Talent Journeys feature automates engagement, keeping talent interested, accelerating the hiring process, and even updating candidate profile information in your ATS. There 'if/then' setup allows you to automate most communication with candidates. For example, 'if' a candidate applies to a new job opening, 'then' they will be sent an email automatically asking to schedule a time for an interview.
For those in sales or expanding businesses, Sense offers Sales and New Business Journeys. These automated engagements keep prospective clients engaged through long sales cycles, provide key updates to current clients, and regularly check-in for feedback with NPS surveys.
In essence, Sense is more than just a messaging platform. It's a comprehensive tool designed to enhance and streamline communication across all stages of the recruitment process, from candidate engagement to team communication and client relations.
Seamless.AI - Find contact information for any candidate
Pricing: Free Trial, $1,764 paid annually for 1 user with 250 credits/month
In the dynamic world of recruitment, having access to accurate and up-to-date contact data can make all the difference. While traditional database models like ZoomInfo served the purpose before the pandemic, the rapid job changes and mass layoffs have made these databases outdated and stale. That's where Seamless.AI steps in, offering a real-time search engine model for contact data that revolutionizes the way recruiters source candidates.
Unlike traditional models that rely on pre-existing databases, Seamless.AI actively searches for contact information in real time. This approach ensures a much bigger reach, especially crucial for teams focusing on specific geographic areas. By not being limited to a database, Seamless.AI can tap into a larger talent pool, increasing your chances of finding the perfect candidate.
Moreover, the real-time nature of Seamless.AI ensures more up-to-date contact data. If a potential candidate changes jobs tomorrow, Seamless.AI can instantly pick up on their digital footprint, providing you with the most current contact information. This is a critical advantage in today's fast-paced job market, where fresh, accurate data can be the key to securing top talent.
The cost-effectiveness of Seamless.AI is another significant benefit. It typically costs about a third of the price of traditional models like ZoomInfo. This is because Seamless.AI leverages technology and AI to search for contact data rather than relying on manual updates by a team overseas.
In conclusion, traditional database models simply cannot keep up with the rapid changes in today's job market. Seamless.AI, with its real-time people search engine, empowers recruiters to connect directly with their ideal candidates, build a robust pipeline, shorten the recruitment cycle, and close deals at scale. It's a game-changer for recruitment, transforming the way recruiters source and engage with prospective candidates.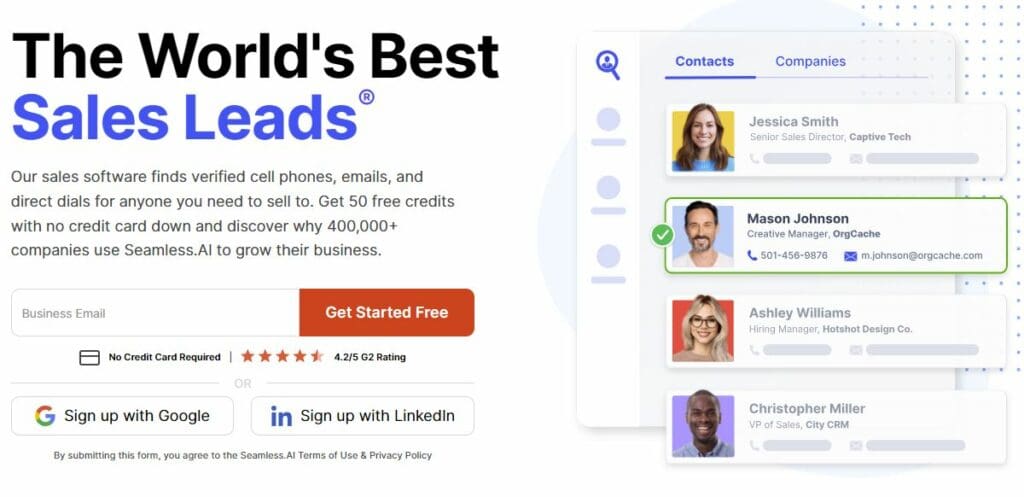 Benefits of Using AI in Recruiting Candidates - Improve Efficiency, Cost Savings, and Quality of Hires
With ChatGPT, Fireflies.ai, ConverzAI, Sense, and Seamless.ai, businesses will have access to the latest technology in recruiting candidates. These tools provide a more efficient process by automating parts of the recruitment life cycle, such as resume sorting and candidate vetting. Furthermore, they provide cost savings through reduced time searching for qualified candidates and the potential for offering improved salaries or benefits since the AI does much of the work.
Leveraging AI tools like these can also result in higher quality hires since they are better equipped to identify ideal candidates that may not always be apparent via traditional hiring methods. All in all, it is clear why utilizing AI in recruitment is becoming increasingly popular and why companies should look into investing in these technologies sooner rather than later.