Best Places to Visit in Jamestown, RI
Before we dive into the best places to visit in Jamestown, RI, we wanted to first give some history of the town itself. Jamestown, RI was founded in 1524 by Italian navigator Giovanni da Verrazzano. It wasn't until 1675, when ferries became operational and there were more than 100 residents on the island.
Nowadays, the population is close to 6,000 and it is ranked the 444th wealthiest place to live in the United States, with a median home sale price of $1,229,039. Jamestown, RI is one of the most popular site seeing towns in Rhode Island, which is one reason why it is so expensive.
Due to Jamestown, RI's beautiful scenery, there were several movies filmed in the town. Some of the more well-known movies that were filmed in Jamestown, RI include Wind, Me, Myself & Irene, and Moonrise Kingdom.
The town of Jamestown, RI has a lot to offer, so here are the top three best places to visit in Jamestown, RI!
Beavertail State Park
The first place on our list of the best places to visit in Jamestown, RI is Beavertail State Park. This state park has some of the best views in the state by far. 
With over 50+ parking spots overseeing Narragansett Bay, we have to say this is the best place to visit in Jamestown. We highly suggest that you park here and have dinner during sunset! Just check out this view…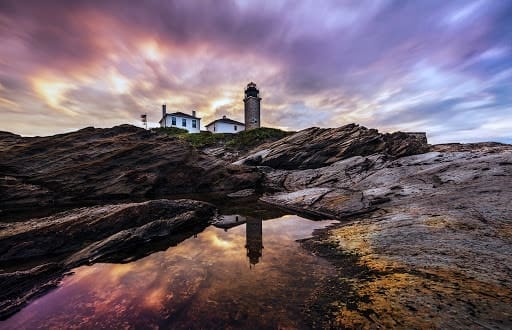 Beavertail State Park isn't only known for its views of the bay. This state park is a public recreation area encompassing 153 acres, which also includes hiking trails, fishing spots, and open areas for picnicking. Towards the beginning of the park, there is a spot where you can find several trails that walk you around miles of shoreline. 
Now, if you are the one for adventures, there are a handful of spots along the hiking trails where you will be able to lower yourself onto small beaches, which can be used for swimming! Watch out though, the currents are strong and the beaches have rocks all around. It is dangerous if not careful. Getting to these beaches is also difficult as you will need to climb down rock walls to get to them. Also, most of these small beaches are for no more than one group of people.
If you are not one for adventures, just walking around this state park is fun! We highly suggest to visit this spot on our top 3 best places to visit in Jamestown, RI!
Fort Wetherill 
Fort Wetherill would have been number one on our list of the best places to visit in Jamestown if we were solely basing our list on historical places in Jamestown. 
Have you ever wanted to visit an abandoned artillery fort before? Well, here is your chance!
The site we know as Fort Wetherill was not always referred to as such and has been through many name changes. When the Declaration of Independence was adopted by the Continental Congress in 1776, this sites history began. 
In 1776, a fort was constructed by patriot forces on the piece of land we know refer to as Fort Wetherill. This fort was occupied by American, British, and French forces during the American Revolutionary War, and was called "the Dumpling Rock Battery" and , "Fort Dumpling Rock."
When the British finally retreated and abandoned the fort in 1779, the fort name was changed to "Fort Conanicut." However, it only took until In 1798 for the name to change again. The fort name was changed to Fort Louis, which was named after the Major who supervised the forts upgrades. However, there were still more changes to come. That same decade, the fort was changed to the name of Fort Brown and was known as such for 101 years.
In 1899, the U.S government purchased Fort Brown and built another fort on top of the land. That is when Fort Wetherill was born.
History of Fort Wetherill
When Fort Wetherill was originally built in 1899, it was the largest fort of the Coast Defenses of Narragansett Bay. During World War I, the fort was home to five companies of the Rhode Island National Guard. This base was used heavily during the time of the war, but when the war concluded in 1918, the fort was deactivated.
It didn't take too long before the fort was reactivated by the U.S. Army in September 1940 as a major part of the Harbor Defenses of Narragansett Bay. A new barracks was built to house 1,200 soldiers in the National Guard's 243rd Coast Artillery Regiment.
The fort also functioned in the year before World War II as a military training facility, and late in the war as a reeducation center for German prisoners of war. However, soon after, Fort Wetherill became abandoned once again from 1945 until 1972, when it became a state park.
At this state park, you will be able to visit the abandoned old fort, which includes a watchtower, lookout posts, and tunnels. As of today, this is one of the only places in RI where you will be able to see a fort with as much history as this one. Today, it attracts those from all around New England to explore and scuba dive the areas around. You have to check it out!
Bonus: There have been many movies filmed at this fort, including Moonrise Kingdom!
If you do check this place out, make sure to go during the day! It can be quite creepy at night due to all the little passages inside the fort. Not to scare you, but in the Providence Journal, it is listed as the 4th most haunted place in Rhode Island, right behind Annmary Brown Memorial, the grave of Mercy Brown, and the Breakers mansion in Newport. 
Don't worry. Fort Wetherill isn't haunted by humans, just a dog.
Have you visited our second favorite place to visit in Jamestown, RI? If so, we highly suggest checking out the next one on our list!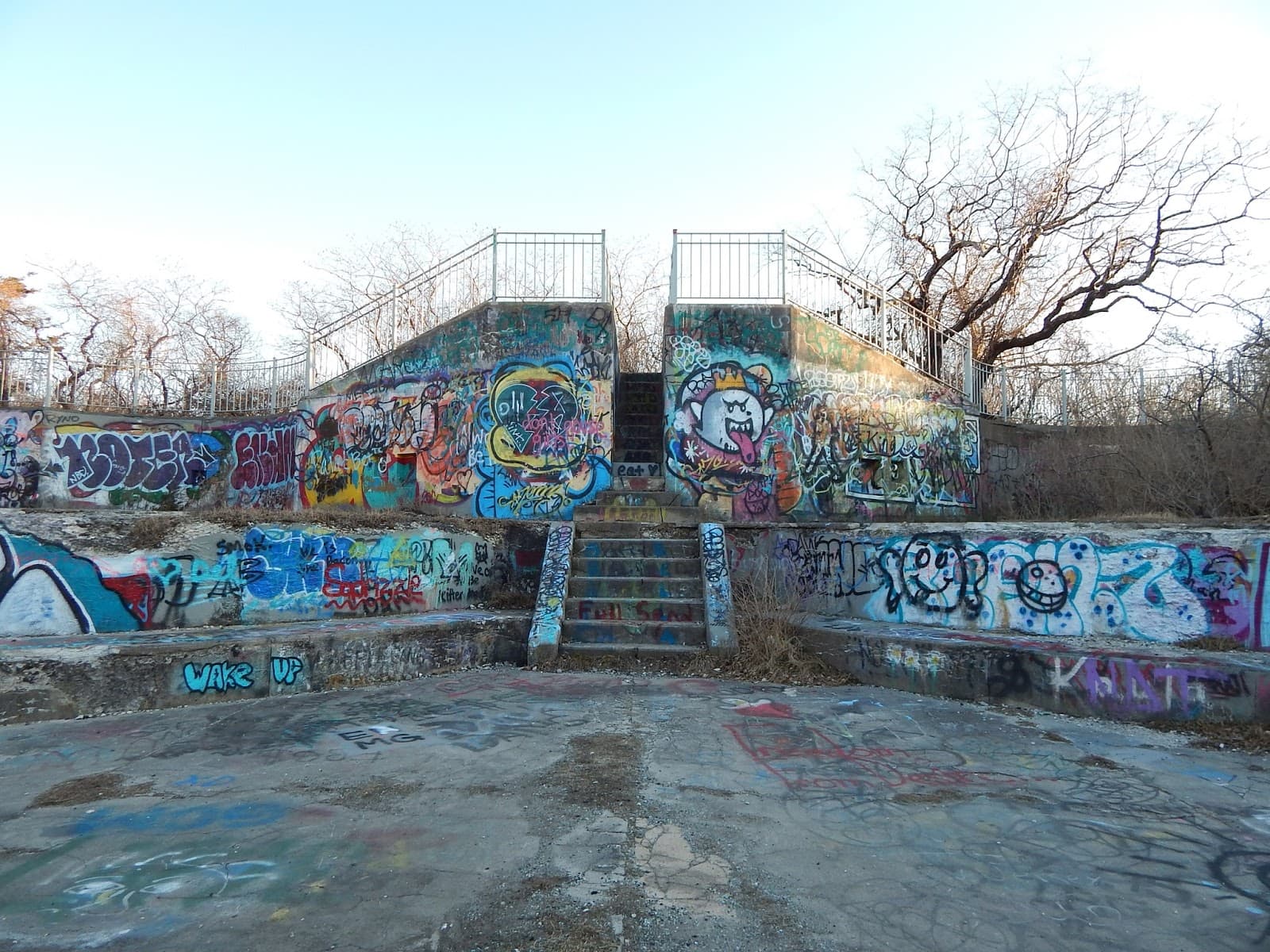 Jamestown Windmill
The last place on our list may not be as exciting as the first two, but it still is a historical landmark in Jamestown! 
The Jamestown Windmill was built in 1787 to grind corn after the British occupational forces destroyed the previous mill around the time of the Battle of Rhode Island. The windmill was operational for 119 years and was 30-feet tall!
In 1904, after years of neglect, a group of Jamestown residents began to raise money to protect the windmill from destruction. They were able to raise enough money to repair the worst damage. Only 8 years later, the Jamestown Historical Society took legal custody, and the windmill been maintained by them ever since. Isn't it crazy what one community can accomplish?
Windmill Booklet
To learn more about the Jamestown Windmill and its history, check out this Windmill Booklet made by the Jamestown Historical Society!
Now that you know the top 3 best places to visit in Jamestown, RI, are you ready to visit? We sure hope you can! Which one is your favorite?
As a locally owned boutique staffing agency, we are able to develop a detailed understanding of your staffing and recruiting needs, and therefore providing you a tailor-made approach to your staffing solutions.  It is our policy that every assignment is an opportunity, every employer is a priority, and every candidate is an asset. 
We strive to create long-term relationships with client companies and job seekers to make sure we make each party find their perfect match.
With close to two decades of experience working in the Southern New England area, including Westerly, we fully understand the local job market which helps us find the best fit for both the client company and the job seeker. Are you still not sure about using our staffing agency? Let us prove it to you.