Are your job search efforts not yielding the desired results? Are you stuck and struggling to land the perfect job opportunity? If so, it's time to take a look at your resume. 
Your resume is a key contributor to your job search success. On average, job application success rates should be between 2% and 4%. This means you will need to send between 30 and 50 resumes to get hired. If you have sent more than 50 applications and still haven't had an interview yet, it is time to enhance your resume.
Making sure your resume stands out from the crowd is key. Having an up-to-date and well-crafted resume can make all the difference when trying to find that dream job. Luckily, these days there are plenty of tools readily available online that can help you build an impressive resume with ease.
In this blog post, we will showcase our top five picks on which resume tools you should use to construct a stand out resume!
For anyone looking for an easy-to-use resume builder, Zety is the ideal tool. With highly-customizable templates, starting from scratch is a breeze. Simply fill out the required fields, and in no time at all, you'll have a professional-looking resume ready to go.
Already have a resume? Zety allows you to upload your old resume and help you make updates to it. Not only does the website provide helpful tips and prompts for you to include in your resume, but there are plenty of customization options too. 
The only downside to using the Zety Resume Builder is that it costs $2.70 for file formats such as PDF or Word documents. However, it is worth it compared to other resume builders!
Keywords are one of the most important aspects of any resume, as they act as a "buzzword" way to display an applicant's skills and experience. Applicant tracking systems are automated tools which employers use to scan through resumes and look for prospective candidates with the qualifications they require. This system runs on simple technology, utilizing sophisticated algorithms that sort through text in each resume and identifies keywords to quickly separate applicants into specific folders based off distinct qualifications and experience.
By incorporating keywords that match up with desired positions or roles, you can give yourself a real chance of landing your dream job. However, how do you know what keyword to use? That is where ResumeWorded.com comes in.
ResumeWorded.com is a great free tool to use for job seekers to get their resumes noticed. ResumeWorded.com has analyzed over one million job postings to find out the skills and keywords recruiters look for in candidates' resumes. On their website, you can view the top keywords and skills that appear most frequently in the job's posting you are applying to. This way, you can now include them in your resume!
Additionally, if you already believe your resume is perfect, ResumeWorded.com has an option for you to paste your resume and their AI will identify what keywords your resume is missing.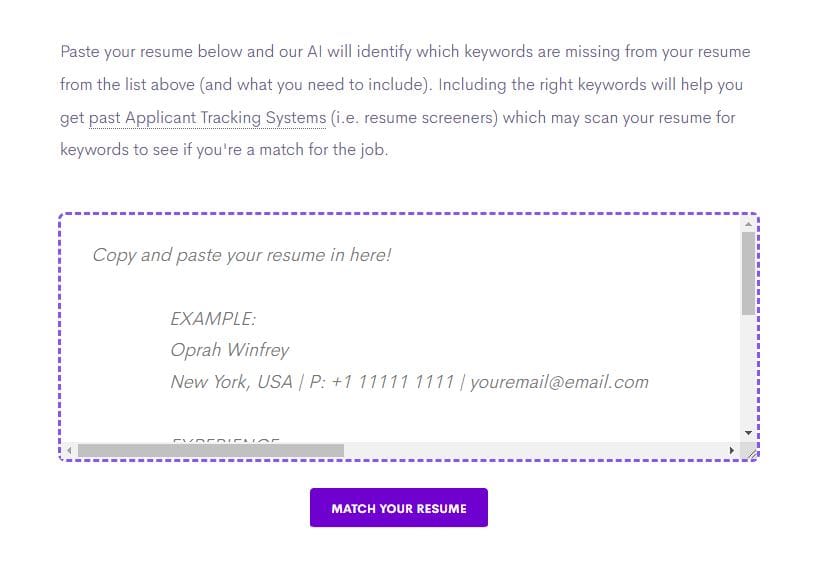 Jobalytics is similar to Resume Worded because it helps optimize your resume to get it past a company's ATS. On average, ATS's reject 75% of applications for each job opening. This means that if your resume isn't built for an ATS, then it is likely it will never be seen by an employer. However, Jobalytics can help with this. While Resume Worded helps you improve your resume overall, Jobaltyics helps improve your resume for each job posting.
Jobalytics is a browser extension that can be used on LinkedIn, Indeed, or any other job board, and it analyzes the job description you are viewing and identifies a match rate between your resume and the job posting. After analyzing the job posting and your resume, Jobalytics will give you a list of keywords to add to your resume to make it a better match for that specific job posting.
With 80,000+ users, Jobalytics have helped thousands find work by helping improve resumes.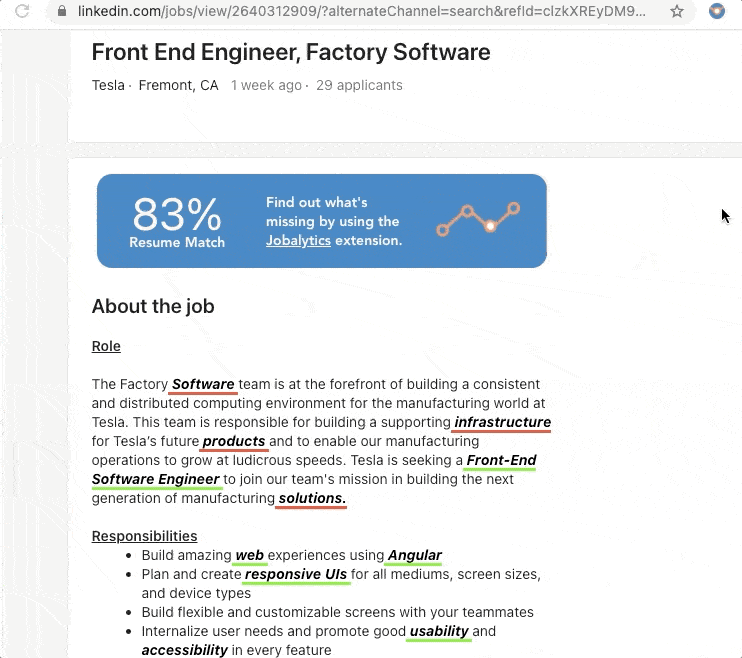 ChatGPT is a powerful tool that can help you create an impressive resume. With the help of natural language processing algorithms, ChatGPT can analyze your existing resume and provide fresh insights into how to make it stand out from the competition. It can also generate human-like text based on the prompts provided by the user, making it easy to craft a unique and compelling resume.
Here is an example that can help you improve your resume:

Grammarly is a powerful tool that can help you create an impressive resume. Its powerful AI-based algorithms are capable of detecting and correcting even the smallest errors in your writing, so you can be sure that your resume is free of typos, misspellings, and other common mistakes. Grammarly can also suggest synonyms and help structure sentences effectively.
For job seekers looking to stand out from the competition, Grammarly is an amazing tool. Not only does it help fix grammatical errors in resumes quickly, but it also allows users to craft professional-looking documents with ease. So if you're looking for ways to improve your resume writing process, consider giving Grammarly a try!