As the older members of Generation Z (currently ages 10 – 25) enter the workforce, employers are scrambling to figure out how to appeal to this new generation of job seekers.
First and foremost, it's important to remember that Gen Zers are digital natives. They've grown up with technology and are extremely comfortable using it. If you are still using the same tactics and technology to recruit talent as you did ten years ago, you may be missing out on the new generation.
If you're looking to attract Gen Zers to your job openings, there are a few things you should keep in mind.
Here are a few specific tips for attracting Gen Zers to your job openings:
Make sure your website is up-to-date and easy to navigate.
Use social media platforms like Snapchat and Instagram to reach out to Gen Zers where they already spend a significant amount of time.
Highlight your company's culture and values on your website and in your job postings.
Use new technology to your advantage.
Offer opportunities for career growth; Gen Zers are always looking ahead.
Be responsive in your communication with potential candidates; no one likes feeling ignored.
In today's job market, it is more important than ever to have an up-to-date website. With the vast majority of job seekers now using the internet to research potential employers, your website is often the first impression that you make on a potential employee.
If your website is out-of-date or difficult to navigate, you may quickly lose the interest of a qualified candidate. In addition, an outdated website can give the impression that your company is not keeping up with the latest trends in your industry, which could hurt your chances on attracting the younger generation to apply to your job openings.
By contrast, a well-maintained website shows that you are invested in your online presence and are willing to spend time learning about new technology trends. By keeping your website updated, you can attract top talent and ensure that your company remains at the forefront of your industry.
Post on Social Media Platforms that They Use
The biggest key to attracting Gen Zers to your job openings is to post on the social media platforms they use the most. You may think Facebook is the best place to post your jobs because it is by far the most well-known social media platform with over 2.9 billion active users per month, but that may not be the case.
Yes, nearly 37% of the entire world is on Facebook, but are they as popular as they used to be with the younger generations? Well, the most popular social media platform for Gen Zers is Instagram. The second, Snapchat. Third? Not Facebook. In fact, Facebook is ranked 6th, below TikTok, Twitter, and Pinterest.
So, why would you post job openings on Facebook if you are looking to attract more Gen Zers to your job openings? The answer: you shouldn't.
It can be difficult to post job openings on Instagram, Snapchat, and TikTok because they aren't job boards. However, in this day-and-age, content trumps all. You are one post away from going viral, which could cause thousands of new candidates to flow in through your ATS system. To attract the younger generations to join your company, start by making content on their favorite social media platforms.
Create social media profiles on all the major platforms and post regular updates. Not only will this help you reach a larger audience, but it will also show Gen Z that you're keeping up with the times.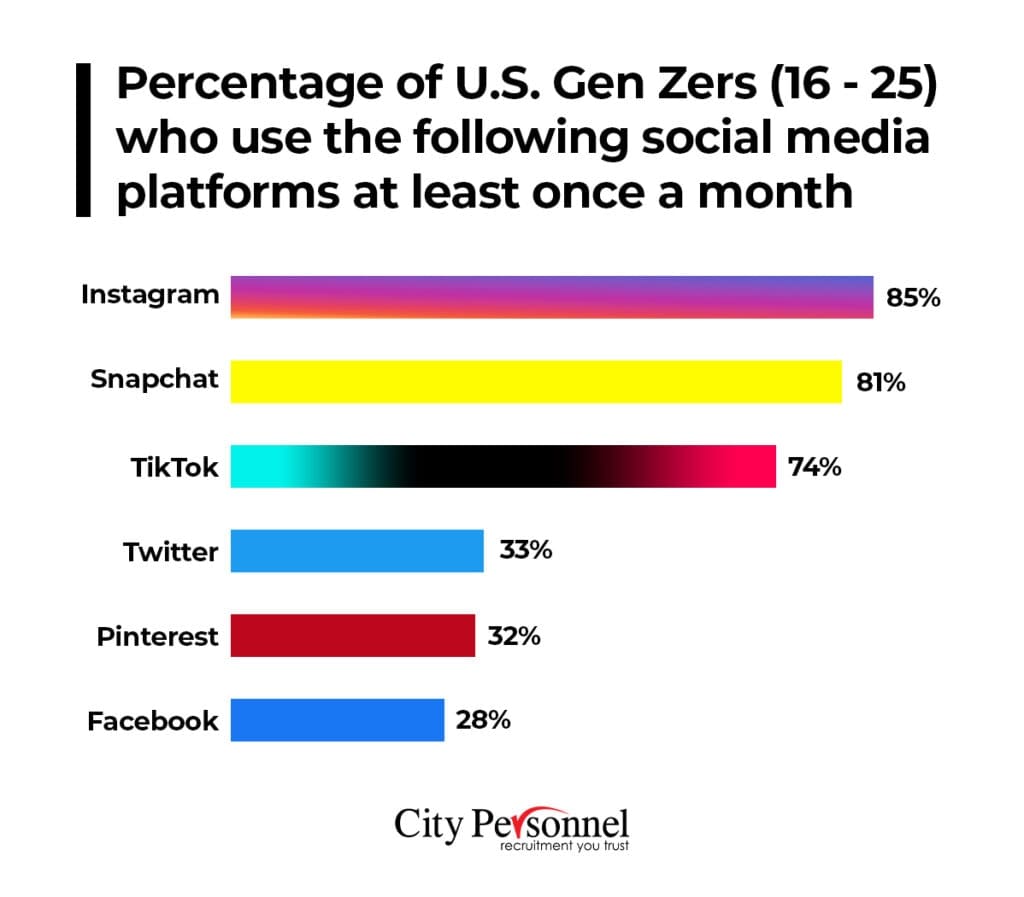 Be Transparent About Your Company Culture
Gen Z values transparency and they want to work for companies with cultures that align with their own values. Before posting a job opening, take some time to really think about what your company culture is and what kind of person would be a good fit.
Once you have a good understanding of your company culture, craft your job postings and other recruitment materials accordingly. This way, you can attract candidates who are likely to be a good match for your organization—and weed out those who aren't.
Use Technology to Your Advantage
As we mentioned before, Gen Z is the most technically savvy generation yet. They're comfortable using technology in all aspects of their lives, so why not use it to your advantage when recruiting?
Utilize video conferencing tools like Skype or Zoom for initial interviews instead of making candidates come into the office. Not only is this more convenient for everyone involved, but it also shows that you're willing to embrace new technologies—something that's sure to appeal to Gen Z job seekers.
Additionally, if you are hiring for a position that does not need to be in the office, offer candidates a flexible schedule. Whether you offer fully remote, 3-2-2 workweek, or any other form of a flexible schedule, you will attract more candidates to your job openings.
Offer opportunities for growth
Another thing that's important to Gen Z is career growth potential. They want to be able to see a clear path ahead of them and know that there are opportunities for advancement within the company.
When you're recruiting for your next opening, be sure to highlight any room for growth within the position or within the company as a whole. This will show Gen Zers that you're invested in their development and that there's a good chance they'll be able to move up within the company if they perform well in their role.
In today's job market, there are more candidates than ever competing for each open position. As a result, it's more important than ever to be responsive to potential candidates. If a candidate reaches out to you and doesn't hear back, they're likely to move on to another opportunity. By being responsive, you show that you're interested in and value potential candidates. This can help you attract the best talent for your job openings.
If you're looking to attract Gen Zers to your job openings, there are a few things you should keep in mind. First and foremost, make sure your online presence is strong. As digital natives, Gen Zers expect companies to have a modern website that is easy to navigate. Additionally, remember that this generation is looking for more than just a paycheck; they want to work for a company with values that align with their own. Finally, be responsive in your communication; no one likes feeling ignored, especially when they're applying for a job!