What are the top skills that will boost your resume? That is a question that many job seekers ask themselves. To get ahead in today's competitive job market, it is important to have a resume that stands out from the rest. The good news is that there are many skills you can learn that will help you do just that!
This blog post will discuss the top skills to add to your resume to impress potential employers. So whether you are looking for your first job or want to make a career change, these tips will help improve your resume!
What Type of Skills to Include on Resume
Your resume skills section is one of the most important parts of your resume—it's where you get to show off your skills to potential employers. And since employers are looking for candidates with the right skills for the job, it's important to ensure your skills are accurately represented. Otherwise, you could miss out on an interview or even the job itself.
When it comes to including your skills on your resume, there are a few things to keep in mind. First, be sure to include skills that are relevant to the position you're applying for. There's no point in including a skill that won't be useful in your target role. 
Second, be specific about each skill you include. Simply listing "Microsoft Office" as a skill, for example, isn't enough—you should specify which programs within Microsoft Office you're proficient in. 
Finally, don't forget to highlight transferable skills—skills that can be applied to multiple jobs and industries. These are especially valuable to employers because they demonstrate that you have diverse skills that can be applied in various ways.
Hard Skills and Soft Skills
When it comes to job hunting, you often hear about the importance of hard and soft skills. But what exactly is the difference between the two? Hard skills are specific, measurable abilities learned through education or training. For example, suppose you're applying for a job as a graphic designer. In that case, employers will be looking for hard skills like experience with Adobe Creative Suite, knowledge of color theory, and typography skills.
On the other hand, soft skills are general interpersonal skills that are difficult to quantify. Examples of soft skills include communication, teamwork, and adaptability.
Make no mistake, the soft skills on your resume can be of as much interest to a hiring manager as the technical skills you offer. Smart managers know that an experienced, highly trained new hire who doesn't fit into the office culture, communicates poorly with clients and colleagues, or freezes under deadline pressures can take a heavy toll on the workplace. 
Your resume — and how you present at the interview — should assure the employer that you cannot only do the job but also help the team thrive, so make sure to add BOTH hard skills and soft skills to your resume.
Soft Skills to Add to Your Resume
Unsure which soft skills will be best to add to your resume? Remember, every job application should get a tailored resume. So review the duties of the position you're applying for, and determine which of your strengths would help you succeed at the job and in the work environment. Then use our tips below to weave those qualifications throughout your application materials. Doing so will demonstrate your value to potential employers and give you a leg up on competitors vying for the same role.
Poor communication skills are often cited as a leading cause of workplace conflict and employee disengagement. If you're applying for a customer-facing role or one that involves significant interaction with colleagues, be sure to mention your excellent verbal and written communication abilities. 
In today's digital world, many employers also place a premium on candidates comfortable communicating via video conferencing and other remote platforms. If you have experience with these technologies, highlight them on your resume and in your interview.
The ability to stay calm under pressure is another desirable soft skill in today's fast-paced workplace. If you have previous experience working in high-pressure environments or managing tight deadlines, point this out to employers. They'll want to know that you can stay coolheaded when things get hectic and won't crumble under pressure. This is especially important if you're applying for a leadership role or one that involves managing others.
Additionally, more and more employers are placing a premium on candidates who can collaborate effectively with others. If you have experience working as part of a team, highlight this on your resume and in your interviews. You might also want to mention any experience you have leading or mentoring others – this will show that you can build strong relationships and foster a collaborative environment.
Other soft skills you can add to your resume include: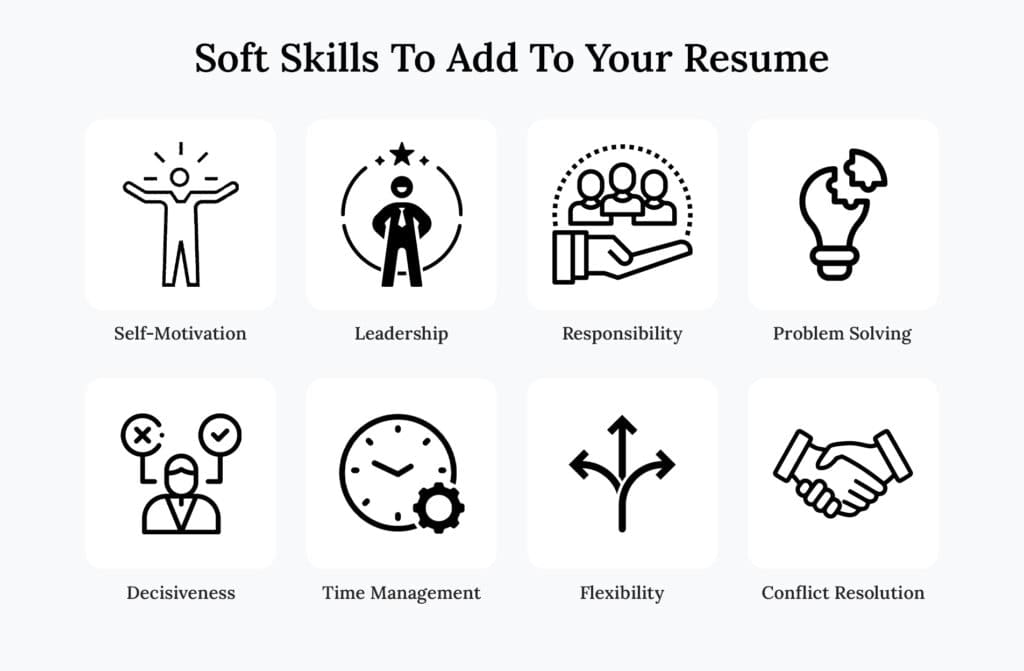 Hard Skills to Add to Your Resume
Hard skills in your industry will be different from those in other industries. Accountants will have different hard skills than Marketers, and Marketers will have different hard skills than HR Managers.
However, some hard skills will benefit any industry.
Writing quickly and accurately is an important skill for many office-based jobs. Medical coders, transcribers, schedulers, clerks, data entry specialists, and administrative professionals must be able to type quickly and accurately to do their jobs effectively.
There is no one-size-fits-all answer to how fast you need to be able to type, as it depends on the industry and the specific job role. However, the job description should give you a good indication of the minimum typing speed required.
Strong typing skills will help you be more efficient and effective in your job and will make it easier for you to keep up with the demands of the role.
Also, writing and editing skills are crucial to have in any job. Many people believe that strong writing and editing skills are only important for those working in publishing, marketing, and PR fields. However, the truth is that these skills are essential for anyone who wants to be successful in the modern workplace.
Polished written communication is essential for keeping an organization running smoothly, and it can also be the difference between winning and losing a business deal. In addition, with the proliferation of social media, it is increasingly important to produce well-written content that will reflect positively on your company or brand. Whether you are writing a memo to your boss or a tweet to your followers, sharp writing and editing skills are essential for success in today's world.
Many hard skills you will list on your resume will be specific programs or tasks you do in your role. For example, Marketers will include SEO, Hubspot, and Google Analytics as their hard skills, which are very specific to their role. Other roles like Administrators will likely not include any of those in their hard skill section.
For a much more comprehensive list of hard skills you can list on your resume, refer to Robert Half's article!
The skills we have discussed are just a few of the many that can help you stand out from the competition. If you want to ensure your resume is as impressive as possible, include all of the relevant skills and experiences you have gained in your previous roles.
And if you need help putting together a stellar resume, check out our blog on how to write the perfect resume!