Are you struggling with your job search? If so, it could be a result of a poorly written resume. The goal of a resume is to catch the eye of the intended reader and help the applicant stand out from the crowd, making it one of the most important aspects of the job search.
Drafting a resume can be difficult and time-consuming, but understanding what core elements to include in your resume can help you create an effective resume that will get you noticed. There are several things that can be done to make a resume more effective, such as choosing the right type of resume, using clear and concise language, and including relevant information. 
It is also important to keep in mind that a resume is not a static document; it should be updated on a regular basis as your experience and skills change.
Whether you are creating a resume from scratch or updating your old resume, we have helpful tips for how to write an effective resume with examples, types of resumes, and tips about resume responsibility.
Name and Contact Information
Your name and contact information are the most important elements to include on your resume. Without this information, hiring managers will not be able to contact you about potential job opportunities. Make sure to include your full name, email address, and phone number so that employers can easily reach you. Additionally, you may want to include links to your professional website or social media profiles. You can also include a LinkedIn profile link for employers to view.

One of the most common questions resume-writers get asked is whether or not to include a summary section. For many job seekers, a summary is vital; it allows you to concisely state your skills, experience, and goals in a way that is immediately accessible to the reader. However, for others, a summary can be redundant or even off-putting. 
If you have an extensive work history, for example, a summary may not be necessary; your experience will speak for itself. Similarly, if you are applying for a position that requires little or no prior experience, a summary may come across as presumptuous. 
In general, then, whether or not to include a summary on your resume depends on your individual situation. If you feel that it will add value to your application, by all means, include one; if not, there is no need to force it.
If you do plan on having a summary section, you will want to have this section directly under you name and contact information. While it may be difficult to create a short summary of your entire work history, it is crucial to not exceed 3-5 sentences for this section. The summary's purpose is to give the hiring manager or recruiter a feel for your personality and work history without being too personal.

In today's job market, it is essential to list your work history in reverse chronological order. This means that your most recent experience should be listed first, followed by your next most recent experience, and so on. Listing your work in reverse chronological order allows potential employers to see your most recent job and get a sense of your current skill set. 
Additionally, this format is easy for employers to follow, and it allows them to see your progression in the workforce. 
When listing your work history, start with the name of the company with the dates of employment to the right (use months and years to indicate dates). If you are still working at the job you are listing, please include your start date with the company, and for the end date, type present. 
Under the name of the employer, list any titles or positions held. Finally, include a small bulleted list detailing responsibilities held in that position. By following this format, you can ensure that your work history is easy to read and understand.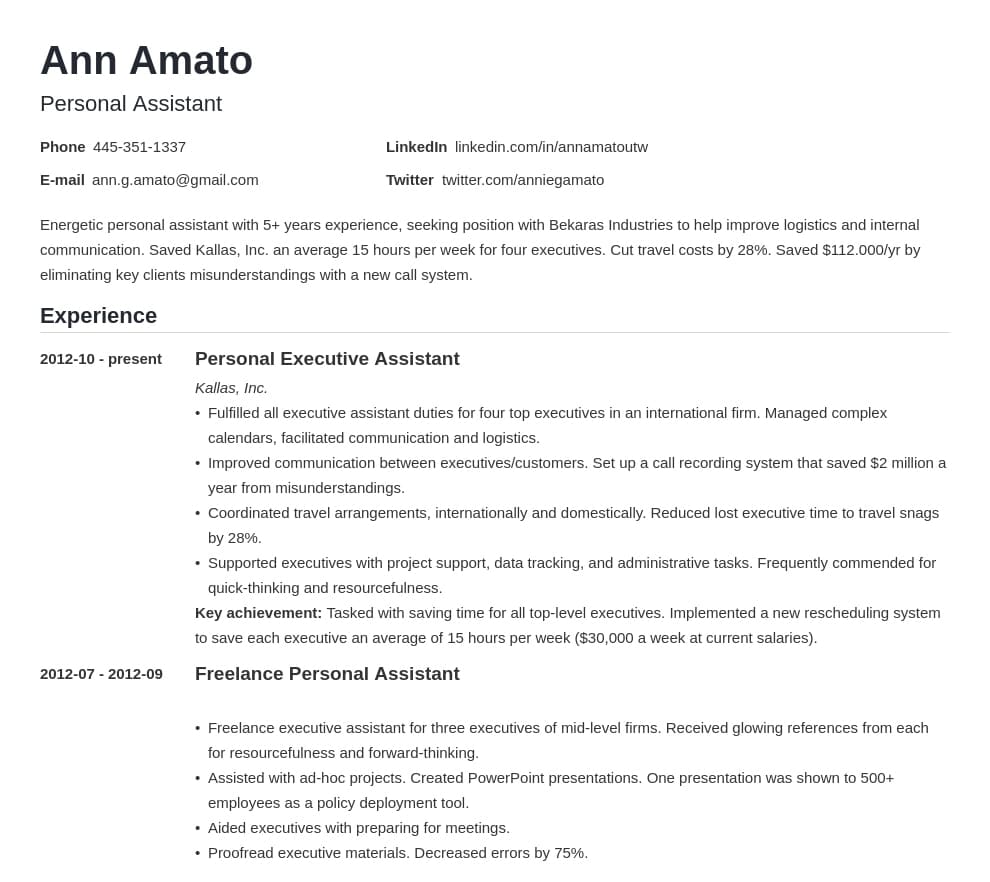 Some recent graduates prefer to put their education experience above their work experience, but we highly suggest against it. Instead, put your work experience like internships or volunteer work above your education. Most recruiters prefer work experience before education on a resume, so make sure to do so.
When it comes to education experience, always list your most recent educational institution at the top of your list, even if you have yet to graduate.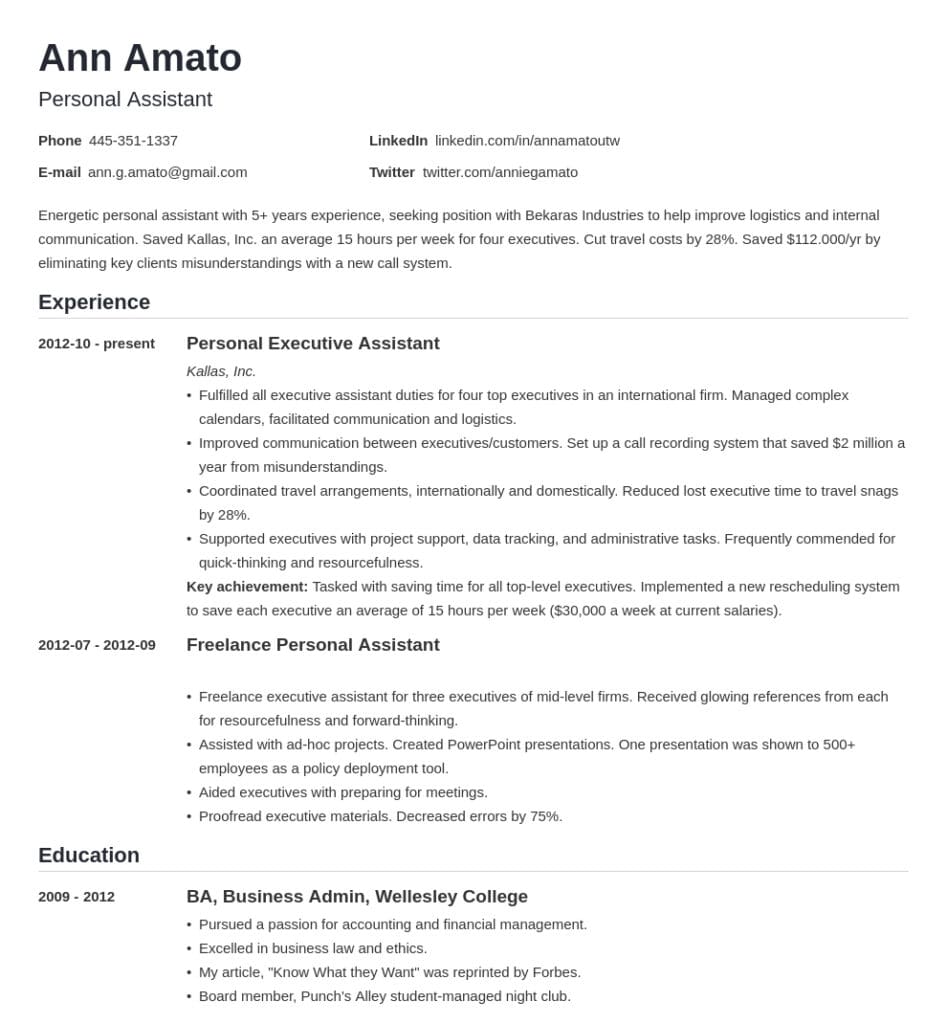 The skills and certificates section of your resume is important for several reasons. First, it helps to identify you as a qualified candidate for the position. Including relevant skills and certifications shows that you have the required skills for the job. 
Second, it demonstrates your commitment to professional development. Adding new skills and certifications to your resume shows that you are invested in your career and willing to invest in your professional development. 
Finally, it creates a positive impression with potential employers. When an employer sees that you are continuously updating your skills and knowledge, they will be impressed with your dedication to your career and more likely to offer you the position. Therefore, make sure to include a strong skills and certificates section on your resume to reap the benefits of a well-rounded professional profile.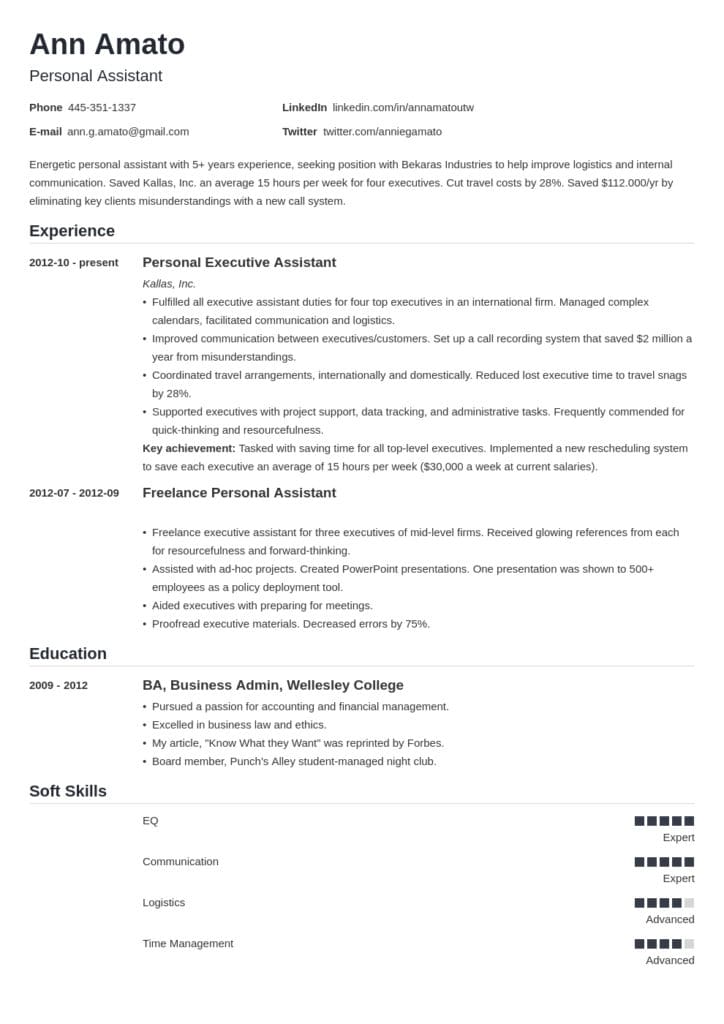 Chronological resumes are the most commonly used resume style (work history in reverse chronological order). A chronological resume's purpose is to showcase an individual's work history and experience over time. 
Functional resumes are used to highlight an individual's abilities and skills by listing the most relevant experience in their work history. Instead of listing work experience in reverse chronological order, functional resumes will be less organized (sometimes having work experience from 10 years ago listed first). 
Functional resumes are best for individuals who have gaps in their work history, are reentering the workforce, have changed jobs frequently, or are looking to transition into a new career.
Personalize Your Resume Format
Popular apps like Canva have become very popular for millennials to use to create resumes. Canva has hundreds of resume templates for little to no cost. However, Canva templates may look nice, but are not great for your job search. Canva resumes templates are not ATS-friendly, so avoid them at all costs. Instead, you can use one of our free resume templates that we created or work from scratch in Microsoft Word.
Ideally, you will want a resume that is not too flashy because it can distract the recruiter and become corrupt in a company's ATS.
Re-Read, Then Re-Read Again
It's embarrassing and can cost you a job offer when you go to hand over your resume to an employer only to notice a typo. Double or triple-check the spelling and grammar before submitting your resume anywhere. A great way to do this is by having someone you trust read it over first.
Additionally, creating a free Grammarly account can be a good alternative to having someone else read over your resume. Ensuring that there are no errors on your resume is the easiest way to create an effective resume. Errors need to be left off your resume!
Keeping your resume up to date is essential if you want to be taken seriously as a job candidate. An outdated resume not only makes you look careless, but it can also give the impression that you're not keeping up with the latest trends in your field. 
Staying on top of your resume doesn't have to be a hassle, though. If you can't access your resume at home, most public libraries have computers and printers that you can use for this purpose. Updating your resume regularly is a small investment of time that can pay off big in the long run.
Conclusion: How to Write and Effective Resume
As always, we want to help you succeed in your job search. For more articles and videos with tips and tricks about interviews, meetings with a recruiter, resumes, and anything job-related, follow our blogs on CityPersonnel.net, or find us on Facebook, Instagram, Twitter, and YouTube.‍ Now that your know how to write an effective resume, let's see it!