Are you looking to expand your business and need to hire the right talent? If so, you're not alone. A recent study found that 81% of businesses plan to hire in the next 6 months. But hiring the right person for the job can be tricky. There are a lot of things to consider, and it's important to make sure you're taking the time to find the best possible candidate. In this blog post, we will discuss 5 tips for hiring the right talent for your business!
Create a Job Description that Accurately Reflects the Position
Believe it or not, the first step in assembling your all-star team isn't coming up with a great set of interview questions or arranging an exceptional training program — it all starts with creating the perfect job description. The job description is your candidate's first interaction with your company, so taking the opportunity to make a lasting impression is key.
As a hiring manager, you want to create the perfect job description that encourages all great candidates to apply. This includes candidates from different backgrounds, genders, ages, and personalities.
However, it's far too easy for certain words, phrases, "required" skills, and other subtle cues to slip in that make perfectly qualified, competent people feel unworthy of even applying. Avoid including words like "hacker," "rockstar," "superhero," and "guru." We may often think our job descriptions are inclusive, but certain words — like the ones mentioned — will deter some candidates from applying.
Put yourself in the shoes of a candidate. Pretend you are unemployed looking for work and come across your company's job opening. What things would you want to know about the open position? You will want to include anything you think a candidate would be interested in learning more about in your job description.
You'll want to provide as much information as you can about the position. From daily tasks and responsibilities to the salary range and any perks and benefits associated with employment, include everything that will help a candidate understand the role before applying.
Here is a list of standard information that you will need to include in your job description:
A Specific Job Title
Don't get too crazy with the job title you select, but make sure to be specific. Use a common job title that will attract candidates and perfectly explain the position you are hiring for. If the position title is Customer Experience Enhancement Consultant, make sure to simplify it.

The longer the job title, the less chance an applicant applies — so be specific in the shortest amount of words as possible.
A Summary of the Job that Catches Seekers' Attention
Summarize a job to the best of your ability. Rather than making a boring description of the position with 10+ bullet points, try only to include the larger job responsibilities and make sure to sell the position!
Details About What Makes Your Company Unique
What makes your company stand out from your competition? If you let your employees out early every Friday, make sure to let it be known.
Exact Job Location
Candidates want to be able to plan their drive before applying for a job opening. I know our staffing agency is in the small state of RI, so this doesn't really apply, but if you lived in a state like Alaska, where 4 of their cities have an area of over 1700 miles

, it is important to narrow down where your office is located.
The Core Responsibilities and Duties of the Position
Only add the responsibilities and duties that take up the majority of the role. Leave out those responsibilities that the role only requires 1 to 2 minutes a week to complete.
Include Information On How the Role Fits Within the Organization
Explain if the position is a team role, who the direct manager would be, and everything else that will help a candidate understand where the role fits within your organization.
List Hard and Soft Skills Needed to Get the Job Done
Lastly, add skills that are necessary for the position. If your office is fast-paced and energetic, make sure to include organization, problem-solving, and time management skills.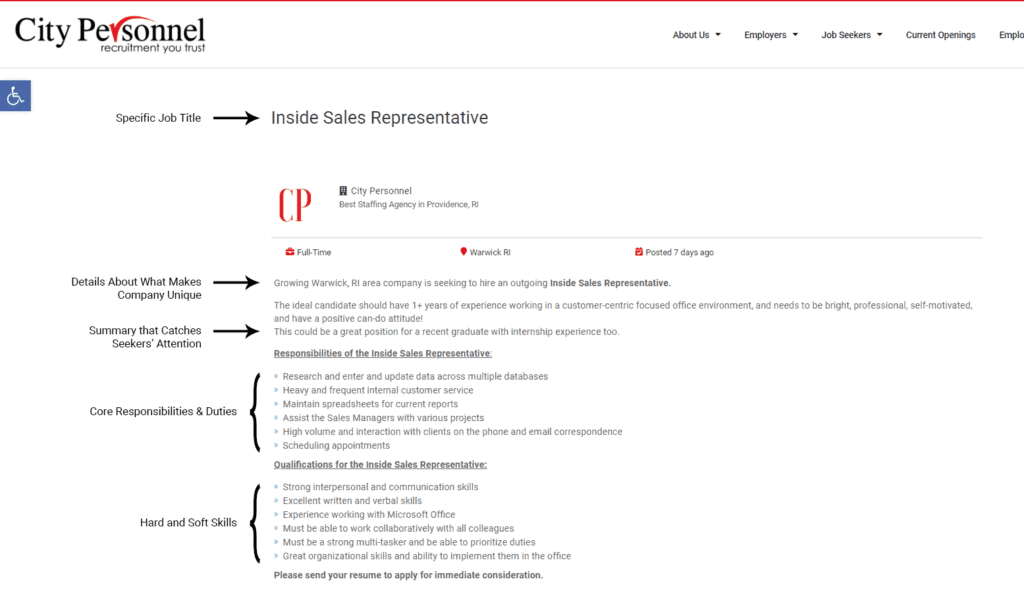 Even something minor—like a word—can affect whether or not you are attracting a diverse talent pool. With diversity and inclusion among the biggest and most important trends in talent acquisition, companies need to make sure the job descriptions are inclusive. A few things you can check for to make sure you create the perfect job description include:
Avoid gendered words. Even if the word isn't outright gendered, certain words like "ninja" and "guru" can turn some applicants off, so it's best to avoid them altogether. The Gender Decoder tool can tell you right away whether your job ad leans too much towards either feminine or masculine-coded words.


Limit job requirements to only the essentials. For the requirements, soften your language with terms like "familiarity with," "some experience in," or "extra points for." Even if you as an organization know there's wiggle room on qualifications, candidates don't see it that way.


Avoid technical language. It can be intimidating to candidates who have the skills but come from less traditional corporate backgrounds.


Mention your commitment to diversity and inclusion in the job description. Eliminate any confusion about whether or not diversity matters at your company immediately. For example, on all our job openings, we include the following blurb:

"City Personnel, Inc. is an Equal Opportunity Employer, and we do not discriminate against applicants due to race, national origin, religion, marital status, veteran status, disability, gender, gender identity, sexual orientation, or other protected characteristics. If you need special accommodation for the application process, please contact us."
Also, do you offer great benefits or parental leave? Summer Fridays, flexible hours, or a 3-2-2 workweek? Do you offer continued education opportunities? Boast a wellness program? If you're committed to something as a company, say it loudly and frequently!
As a female-owned boutique staffing agency in RI, City Personnel's mission is to attract a highly skilled and diverse talent pool. We search for candidates with unique outlooks, skills, and experience who use their perspectives to work toward a shared goal. Our objective is to provide an effective and inclusive preview of the welcoming and motivating position to a candidate.
If you are finding it difficult to create the perfect job description, your company could be missing out. Hiring doesn't have to be hard, but it can definitely feel like it sometimes. City Personnel can help keep the process simple and synchronized by optimizing your recruitment process. See for yourself, and lets us help you achieve a diverse workforce today! It all starts with you and the perfect job description.
Screen Candidates Carefully
Employers, if you're not screening candidates carefully, you may be making a big mistake. Many times, employers will quickly glance at a resume and then conduct a brief interview without asking any key questions. This can often lead to hiring the wrong person for the job. By taking the time to screen candidates carefully and ask the right questions in an interview, you can avoid making this mistake.
Here are some key things to do when screening candidates.
Reviewing Resumes
I highly suggest you review our blog, "5 Things You Need to Look for in a Resume." If you haven't, here is a quick overview of what you need to look for when reviewing resumes.

Reviewing resumes is the second most important part of the hiring process. As you know, every resume is unique. The difficult decision is having to choose to interview one candidate over another based primarily on a piece of paper. However, there are several things you should be aware of during this process.

With most resumes being in reverse chronological order, read them from back to front so you can follow the person through their career path. This way, it will be easier for you to pick up on trends in their work experience.

Also, some job titles can have a wide range of job duties depending on the industry they are in. If you see a job title that is similar to what you are looking for, make sure you read the description of what the role consisted of before making a decision on interviewing a candidate.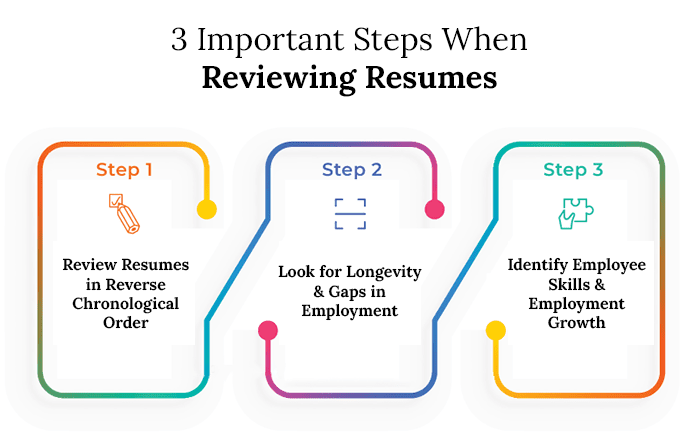 Longevity in Employment
If you seek to fill a long-term role in your company, you want to make sure the candidate you hire stays employed with you for longer than a year. When reviewing resumes, look out for longevity in employment. If the candidate has had several jobs in only a handful of years, it can show that the candidate is a 'job hopper.'


Gaps in Employment
One several-month gap in employment will likely be due to a specific reason such as maternity leave, paternity leave, medical reasons, child care, or simply not being able to find work due to job shortages.

However, if a candidate's resume has several jobs on it and all of which have months of employment gaps, there could be a more significant reason other than coincidence.

Several gaps could be a red flag showing the candidate either got let go or could not keep up with the work environment.

Employment Growth
Employment growth is crucial when reviewing candidates for entry-level roles or roles that have significant growth potential. Review a candidate's resume to see if the candidate had seen any employment growth within a job they had been at for over three years. Employees without employment growth isn't necessarily a red flag, but it is something to consider.


Employee Skills
When reviewing a resume look out for employee skills. What can be more important the the title of the job a candidate held or the company they worked for is the skills they have. Identify what skills are needed to succeed at your role within your company and look for those skills within a candidates resume.


According to Indeed, the most sought-after employability skills that hiring managers search for in candidates are as follows:

Communication Skills

Leadership Skills

Teamwork Skills

Interpersonal Skills

Learning/adaptability Skills

Self-Management Skills

Organizational Skills

Computer Skills

Problem-solving Skills

Open-mindedness

 

Phone Screening
When a resume isn't enough to decide whether or not to interview a candidate, it is time to get on the phone and call them. A short 10 minute phone call can provide you with some valuable insight about a candidate. Create four to six questions to ask a candidate about their past work history.


Check Social Media Networks
We are in the day and age where everyone's life is online. Companies are using social networks like LinkedIn, Facebook, and Twitter to learn more about their job candidates. Screening social media accounts can help you learn more about a candidate that a phone screen and a resume can't.
Interview Candidates Thoroughly
Whether you are just starting out in your search for new employees or you have been doing this for a while, it is important to know what tips to follow when interviewing candidates. By knowing what to look for and what questions to ask, you can make the best choice for your organization.
One of the most important aspects of any job interview is the questions that you ask the candidates. While you want to know about their qualifications and experience, you also want to get a sense of their personality and how they would fit into your company culture. Asking open-ended questions that encourage candidates to share their thoughts and feelings can be very revealing. In addition, pay close attention to the way that candidates answer your questions. Do they seem genuine and sincere, or are they evasive or dismissive? The way that candidates communicate during the interview process can be just as important as their actual qualifications.
Here are a few interview questions you should ask your candidates during an interview:
What do you know about our company, and why do you want to work here?
What skills and strengths can you bring to this position?
Can you tell me about your current job?
Can you tell me about a time when you had a disagreement with a boss or colleague and how you handled the situation?
Do you work best alone or on a team?
Where do you see yourself in five years?
In your most recent role, was there a time when you had to overcome a significant challenge?
What's the most interesting project you've worked on in a past position?
Tell me about yourself.
Do you have any questions for me?
Another important tip for interviewing candidates is to pay attention to their body language. Are they making eye contact and siting up straight, or are they slouching and fidgeting? Body language can be very revealing, and it can tell you a lot about a person's comfort level and confidence. If a candidate seems nervous or uneasy, it may be an indication that they are not a good fit for the position.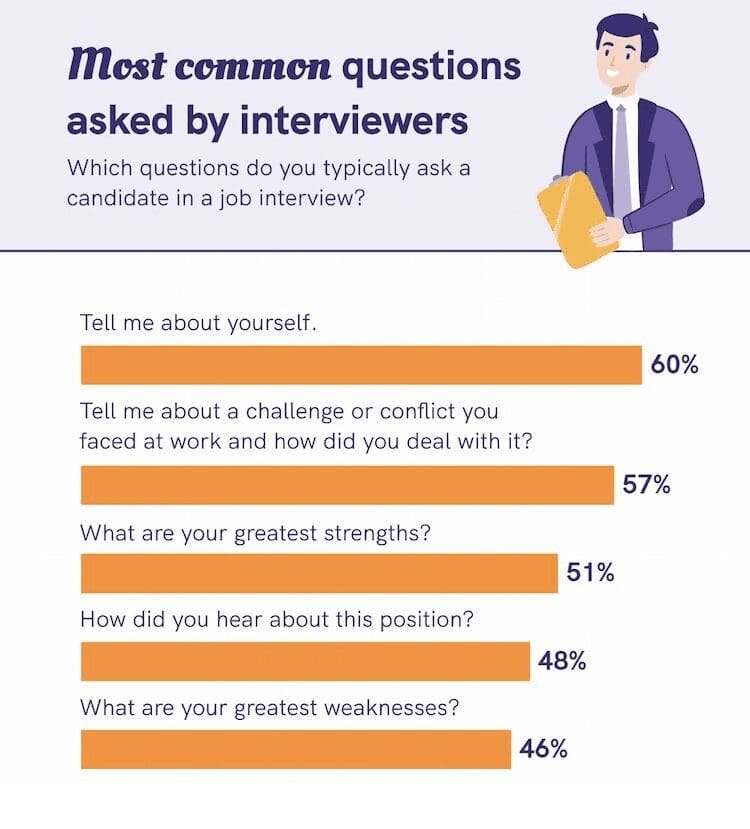 Reference Check Candidates to Get an Idea of Their Work Ethic
Reference checks are an essential part of the hiring process, as they provide valuable insights into a candidate's qualifications and suitability for a particular position. These checks serve several important functions, such as verifying information provided by the candidate, learning more about their work ethic, and offering additional details on their skills, performance, knowledge, and work history from sources outside of the candidate themselves. 
Additionally, reference checks can help you assess a candidate's potential for success in the position based on feedback from previous employers or colleagues. Whether you choose to conduct these checks yourself or outsource this task to an HR professional or recruiter, using them can ultimately help you make more informed hiring decisions and reduce the risk of bringing in ineffective candidates. So if you're looking to fill a new position in your business, be sure to take advantage of all that reference checks have to offer!
A few red flags to look out for include a reference not remembering the candidate, not able to provide certain information regarding their work, or a reference who is related to the candidate.
When conducting reference checks, there are a few key things to keep in mind. First, be sure to obtain permission from the candidate before reaching out to their references. Second, make sure that you're speaking with relevant and current references who can speak to the candidate's qualifications for the position in question. Finally, take the time to ask specific and detailed questions that will help you gain a better understanding of the candidate's skills, abilities, and work ethic. By following these simple tips, you can maximize the usefulness of your reference checks and get the most out of this important hiring tool.
Make a Decision and Offer the Job Quickly
I highly suggest you review our blog, "Don't Lose Out: Why You Need to Act Quickly on Candidate Resumes." If you haven't, here is a quick overview of why you need to act quickly on candidate resumes and make a job offer.
It is no secret that the job market in 2022 is competitive. There are many job openings and a limited number of qualified job seekers seeking employment. Businesses are now required to act quickly on candidate resumes to not lose out on top talent.
In our recent blog, we talked about companies like Southwest Airlines Co. and UPS offering on-site interviews and job offers. To not miss our on candidates, you need to speed up your hiring process.
It's essential to act quickly when you find a qualified candidate. The longer you wait, the greater chance you will lose them to another company. If you're not sure how to shorten your hiring process, we can help. We specialize in helping companies find the right candidates for their open positions.
For more information on the importance of acting quickly on candidate resumes, please visit our new blog post!
How to Hire the Right Talent
These are just a few tips to help you hire the right talent for your business. Keep in mind that finding the perfect candidate can take time, but it's worth it in the end! Ensure you are creating a job description that accurately reflects the position you are hiring for, screen candidates carefully, interview candidates thoroughly, reference check candidates, and make a decision and offer the job quickly! It is a lot of work, but will help you in the long run!
Are you currently hiring? If so, we can help! With close to two decades of experience working in the Southern New England area, we fully understand the local job market, which helps us find the best fit for both the client company and the job seeker. We can help you hire the right talent for your job openings!