LinkedIn is a powerful tool for sourcing candidates. With over 500 million users, it's no wonder why so many recruiters turn to LinkedIn when looking for new talent. In this guide, we will discuss how to use LinkedIn to find the best candidates for your organization. We'll cover everything from creating a profile that will attract candidates to using search filters to find the right people. So whether you're just starting out or you've been sourcing candidates on LinkedIn for years, this guide has something for everyone!
Creating a Profile & Make Connections
The first step to sourcing candidates is to create an appealing profile on LinkedIn. That does not only consist of filling out your job history, education history, and skills, but it also includes adding a professional LinkedIn profile image and increasing your profile connections.
First, let's start with the basics. When creating your profile, fill out as much of your job and education history as possible. The more information you share about yourself, the easier it will be for potential candidates to find you on LinkedIn. Additionally, make sure to add a professional profile picture so that other LinkedIn users have an idea of what you look like and can put a face to your name. Statistics show that LinkedIn members with a profile image receive far more engagement: 21 times more profile views and nine times more connection requests.
Once your profile is completed, connect with others on LinkedIn by sending connection requests. Not only will this help you increase your network, but it can also help attract candidates who may not have found your profile. Some recruiters like to "follow" companies on LinkedIn that align with their own interests, so chances are that if you follow a company or industry group, some of these members will eventually see your profile and connect with you. The more connections you have, the better the chance candidates will respond to your messages.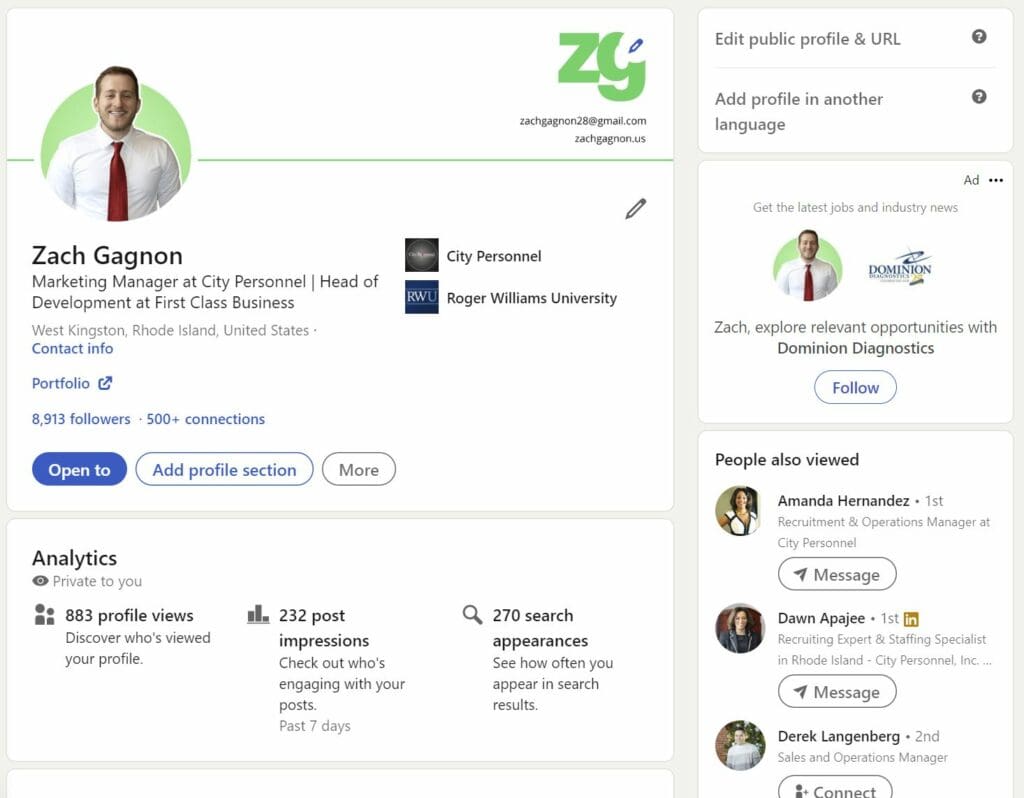 Building a Personal Brand
Another important aspect of sourcing candidates on LinkedIn is building a personal brand. This involves staying active on the site, participating in industry discussions, and following thought leaders within your niche. The more your name is associated with certain keywords – whether that be through you answering questions or sharing articles related to your field – the easier it will be for candidates to find you on LinkedIn.
There are a number of tools within LinkedIn that help you build your personal brand. For example, using the publishing platform to share relevant articles with thousands of LinkedIn members will not only get you noticed by others in your field, but it can also help bring more candidates to your profile. Additionally, consider joining or creating discussion groups that are relevant to your industry. Not only will this help to boost your profile's search ranking on LinkedIn, but it can also allow you to interact and network with other professionals in your niche.
Utilizing Employees Network
The average number of connections per LinkedIn profile is around 500-999. Chances are, your employees will have different LinkedIn connections than you. That means if you have 10 employees and all of them share a job opening on their profile, there is a potential that 10,000 candidates see that job opening. This is why it is important to encourage your employees to network and share job openings with their connections.
Joining and participating in relevant groups on LinkedIn is another great way to find candidates. Each group has its own discussion board, which allows you to share job openings with all members of the group.
For example, if you are filling a job opening for a Marketing Manager, you may want to join groups like "Marketing Professionals on LinkedIn" or "SEO Experts".
Additionally, some groups may even allow you to post articles related to your field or comment on other users' posts. Take advantage of these opportunities, as they will help you to build a stronger personal brand and connect with potential candidates.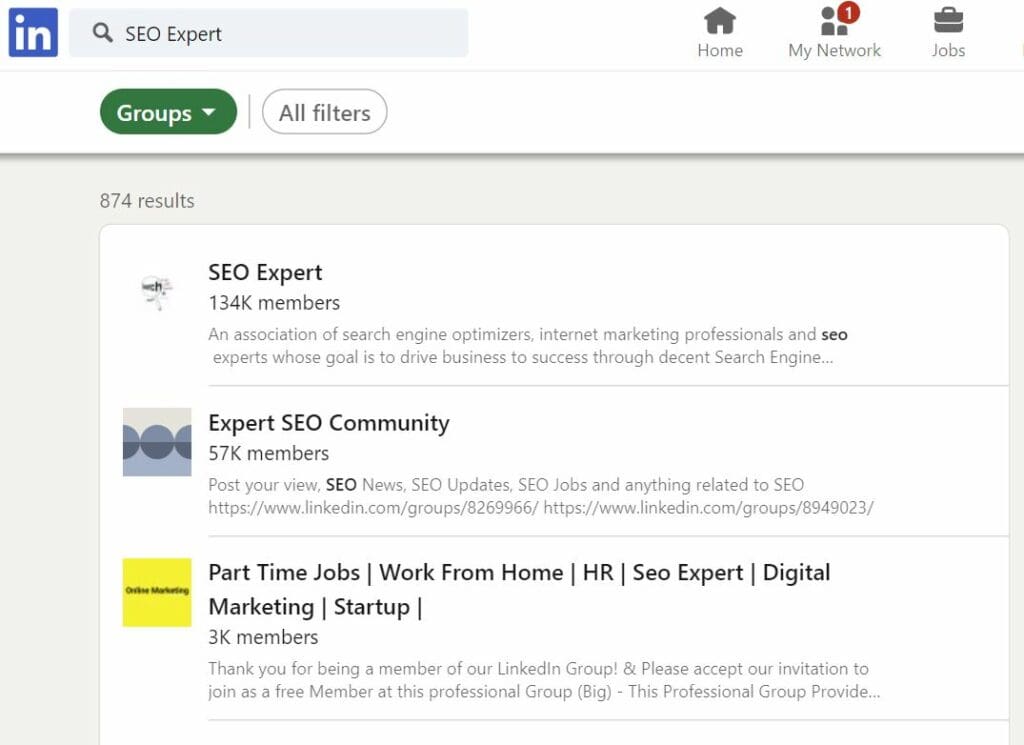 Boolean searching is another great way to source candidates on LinkedIn. To do this, type keywords into the search bar that are relevant to your niche and the job opening you want to fill. For example, if you are looking for a CFO position in Atlanta, Georgia, you may use the following keywords: "CFO" location:Atlanta.
Another method is to include as many job-specific keywords as possible in your search query. For example, if you are looking for a new Python Developer, use keywords like "Python Developer", "Programmer", and "Software Engineer". This technique will help you find candidates who have relevant skill sets but may not be using all of their skills in their current jobs.
LinkedIn also has several filters you can use to find candidates for your job openings. Filters on LinkedIn include connections, connections of, followers of, locations, current company, past company, school, industry, language, open to, service categories, first name, last name, and title.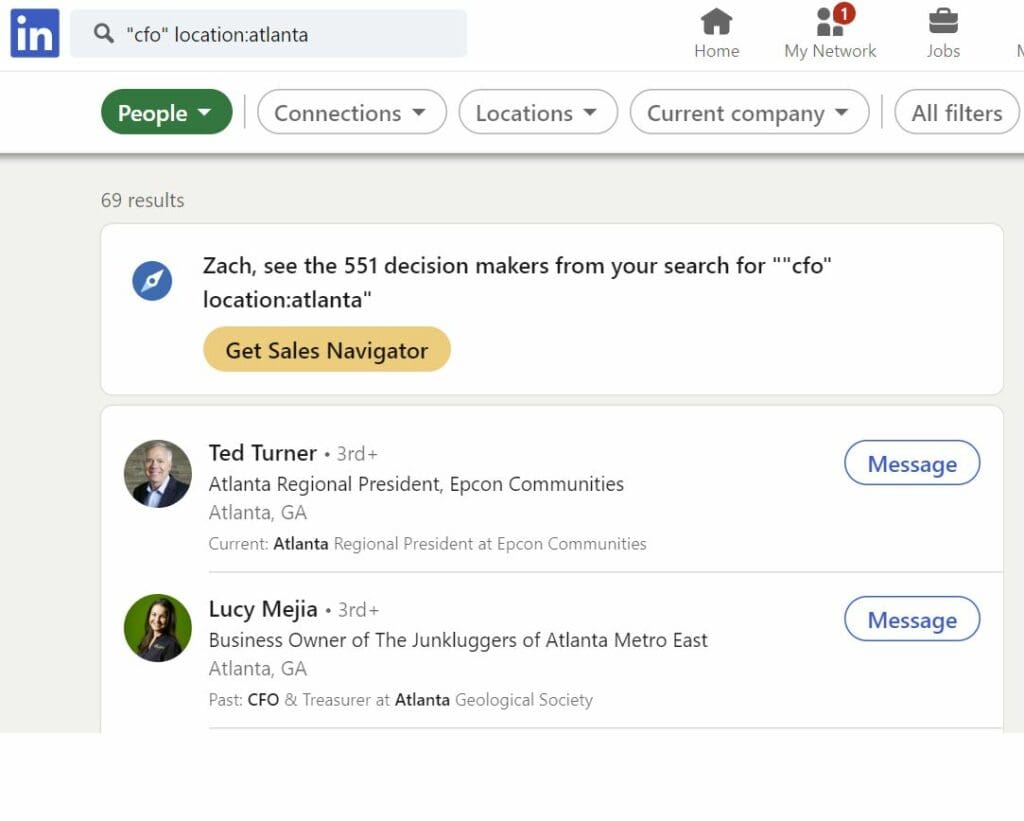 Another great way to find and connect with potential candidates is by messaging your connections. When you message a connection, they will receive an email notification that they have received a request from you. If the person you are messaging already knows who you are, they may be more willing to look at your job opening than if it were sent cold via InMail.
When you message a connection, include a brief introduction about yourself and the job you want to fill. Keep your message short and to the point. If the person is interested in your job opening, they will respond back to you and move forward with discussing it further with you. Of course, that also means they may not be interested in the job opening. Even if they aren't interested, however, they are more likely to remember you when a new position comes up because they know you as an acquaintance.
Finally, keep your relationship with LinkedIn connections strong by engaging with them and responding to their communications in a timely manner. This will encourage them to recommend other job seekers to you, or consider you when they are looking for a new career.
You can also reach out to new connections on LinkedIn by sending InMails to people in your network. If you have an account that allows you to send InMails more frequently than the average user – such as a Premium account or an account that you have purchased credits for – you can use this to your advantage by sending InMails to potential candidates.
Like LinkedIn messages, keep your InMails short and concise with a brief introduction about yourself. For the body of the email, include a detailed description of your job opening and encourage the person to consider applying for the position. People are more likely to respond to InMails if you make it clear that you have read their profile and understand their background and experience, so emphasize these in your email.
Additionally, when sending an InMail message to a potential candidate, be sure to include your contact information in the body of the email so they can easily get back in touch with you.
Now that you know the basics of sourcing through LinkedIn, it is time to start filling your company's job openings!