There are a lot of myths about staffing agencies. Some people think that they are only for low-skill, entry-level jobs. Others believe that they are expensive and only used by large companies.
In reality, staffing agencies can be an excellent resource for businesses of all sizes and candidates of all skill levels. This blog post will dispel these common myths and tell you the truth about what staffing agencies can offer you as a job seeker or your business.
5 Myths About Staffing Agencies For Employers
You may be wary of working with a staffing agency if you're an employer. You may think that they're only out to make a profit at your expense or that they'll provide low-quality workers who won't stay long. But the truth is, those are just a few myths about staffing agencies that some believe are true. Staffing agencies can be an excellent resource for employers – if you know what to look for. 
There are many benefits to using a staffing agency as an employer. We help you find qualified employees, save time and money, ensure you don't lose out on candidates and reduce your risk of making a bad hire.
Unfortunately, there are many myths about staffing agencies that are completely untrue. Here are five myths about staffing agencies and the truth behind them.
Staffing Agencies Only Provide Temporary Workers
Did you know that staffing agencies can provide your business with long-term or permanent employees and temporary workers? Many employers believe that staffing agencies are only helpful for finding short-term workers, but this is not the case. According to a recent poll conducted on LinkedIn, more than 70% of staffing agencies' job openings are temp-to-perm or direct hire positions.
It depends on the staffing agency, but most local staffing agencies rarely have companies reach out to them regarding temporary positions. Out of all the jobs we currently have available, less than 20% of them are temporary. So, if you require permanent employees, we are here to help!
There are several reasons to work with a staffing agency, even if you need employees for long-term roles.
For one thing, staffing agencies have access to a broader pool of candidates than most businesses. For example, as of April 19th, we currently have over 70,000 candidates in our system. Rather than waiting for candidates to respond to your ad online, staffing agencies immediately have access to thousands of updated candidates' resumes in their systems to reach out to in regards to your job opening.
Staffing agencies also screen candidates carefully, making you more confident that you're getting qualified workers. Additionally, staffing agencies can help with the onboarding process, ensuring that new employees are adequately trained and integrate well into your company culture. Ultimately, working with a staffing agency is a smart way to find qualified, temporary AND long-term employees for your business.
Staffing Agencies Are Expensive
Have you had trouble finding candidates to fill your company's job openings in this job market? Recently, we conducted a few polls on LinkedIn to see if other companies are struggling to find candidates in this job market.
In one poll, we asked employers what their biggest challenge in recruitment is right now. Here are the results: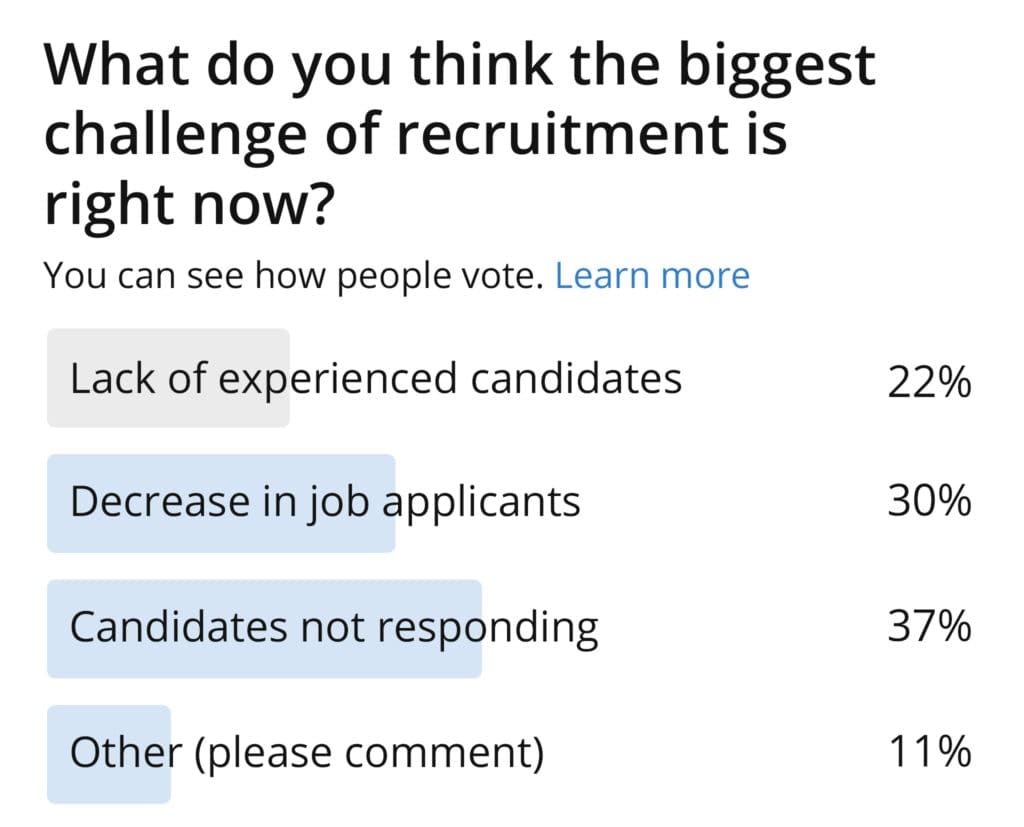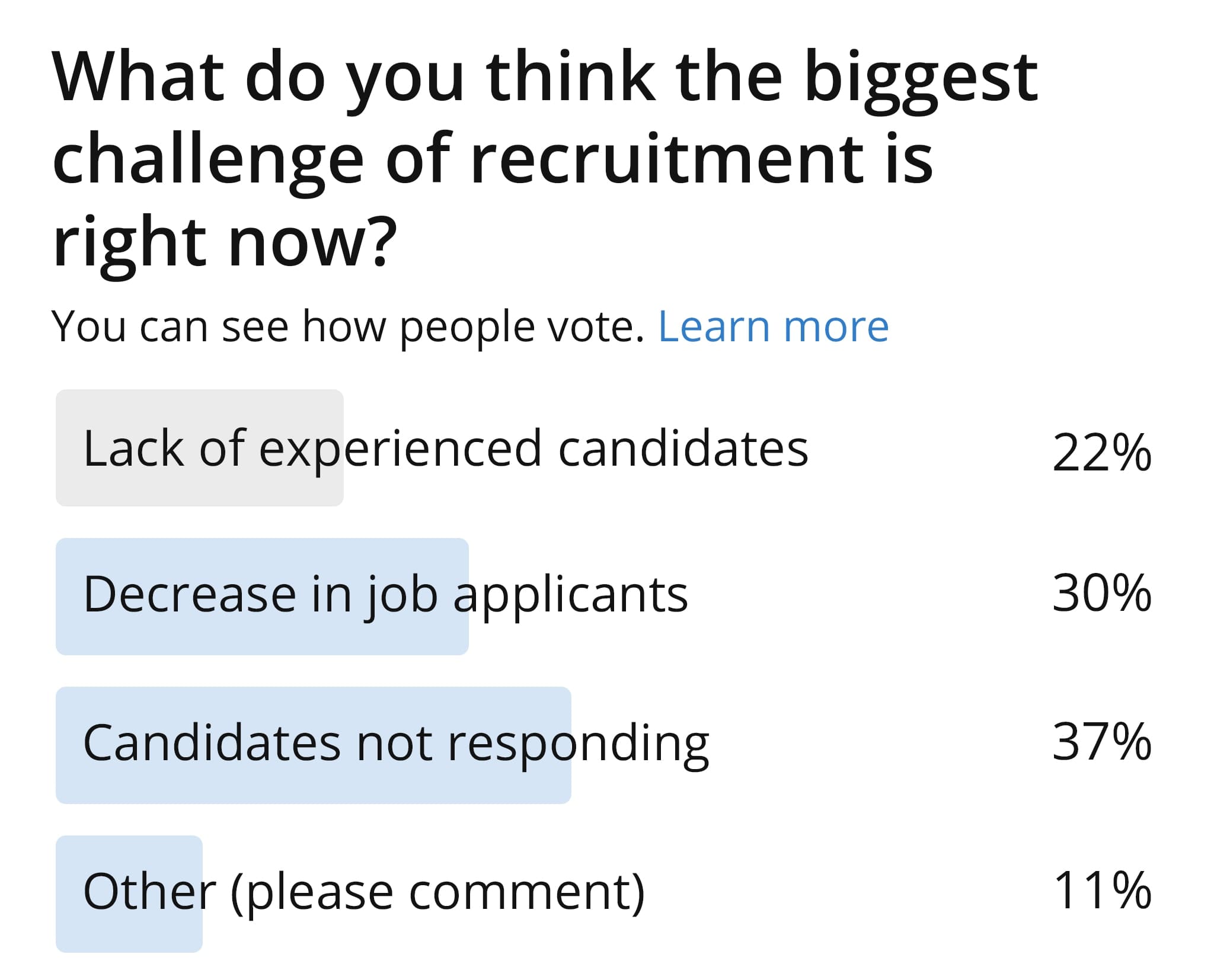 As you can see, even the few candidates applying for job openings online are either not responding or unqualified. According to Career Sidekick, the typical employer will interview 6-10 candidates for a job to find the perfect candidate for their job openings. However, with the decrease in job applications, companies are spending more and more on Indeed job postings, and it is ultimately cheaper to hire a staffing agency to do the work for you.
Staffing agencies typically charge 25% to 100% of the hired employee's wages. For example, if you agree to terms with a staffing agency of a markup of 50%, and the hourly wage of the employee you hire is $20, you will pay the agency $30 per hour for their work. And once you hire the employee full-time after a certain number of hours, you no longer pay the staffing agency and now pay the employee directly. This may seem like a lot, but staffing agencies are fairly inexpensive for all that they do.
As an employer, there are a lot of legal responsibilities involved, like covering certain taxes, providing insurance, and following labor laws. However, when working with a staffing agency, most of these liabilities fall on the staffing agency.
Staffing agencies pay for:
Workers Compensation
Workers Insurance
Taxes
Job Board Postings
ATS Systems
Internal Services
Rather than wasting your money posting to job boards and seeing no results, work with a staffing agency and only pay once we find a candidate for you! Also, from a financial and operational standpoint, hiring employees comes with financial risks, especially if someone has to be fired or unexpectedly leaves. Staffing agencies also take these liabilities on.
Lastly, the average cost of a bad hire is around 30% of the employee's first-year earnings. Rather than worrying about a bad hire, hire a candidate for a temp-to-perm position, which is a trial period to make sure the candidate is a good fit for your company.
Staffing Agencies Only Provide Low-Quality Workers
When it comes to staffing agencies, many employers believe that we only fill entry-level positions with low-quality workers. However, no matter what type of position we are looking to fill, all the candidates that are registered through us go through a detailed interview process. From an original phone screen to an interview with one of our career coaches, each individual needs to be a high-quality candidate for us to consider sending to our clients. Additionally, we follow up with references and ask certain candidates to take skill quizzes before sending them off to our clients to ensure all the candidates we send over to you are qualified, high-quality workers.
We do not only fill entry-level positions but also fill positions ranging from one year of experience required to 5+ years of experience required. In the past, we have filled Engineering positions, Financial Controller positions, and German-speaking positions.
Even if you are looking to fill positions that only require 1+ years of experience, we have a candidate pool of highly qualified candidates ready for work! Our candidates range from college graduates to experts with 15+ years of experience in their field.
We know that each company has different needs, which is why we meet with you before sending over any resumes to get a good idea of what you are looking for in a candidate. Some companies prefer college graduates, while others prefer seasoned experts. We take your preferences into consideration when finding candidates for you!
Staffing Agencies Are Only For Large Companies
Staffing agencies are not only for large companies, but small businesses have many more benefits from working with staffing agencies.
Imagine you are a new business owner who just opened up a new business in a town you do not currently live in. After a few weeks of booming business, you realize you need to hire more employees to keep up with the orders you are receiving. Do you choose to hire yourself or look for a staffing agency for help?
If you choose to hire yourself, there are some things you need to consider. Do you have time to search for candidates online, onboard candidates, read resumes, interview, screen candidates, or even prepare tax information? More than likely, the answer is no. 
However, let's say you have the time to do all of that AND continue running your business. Do you know how much to pay your new employees in the town you are located in? Do you know what job board our candidates tend to use more than others? Do you know how to create the perfect job description? This is the main reason why using a staffing agency is in the best interest of a smaller company.
Additionally, there are other great reasons why smaller companies should work with staffing agencies.
Small businesses are usually going through the growing phase, which means money could fluctuate on a month-to-month basis. Rather than worrying about a bad hire, you can choose to work with a staffing agency to hire a temporary or temp-to-perm employee, which will allow you time to adjust to the growth and test out the waters with a new employee.
Also, finding employees is a full-time job in itself and can be overly stressful. Rather than taking the time out of growing your business, you can delegate the work to a staffing agency.
No matter your needs, specifications, or requirements, a staffing agency can help find you the right candidate for the job.
I Don't Need A Staffing Agency If I Have An HR Team
Any business that wants to be successful needs to have a strong human resources team. After all, the HR team is responsible for attracting and hiring top talent. They also play a crucial role in onboarding new employees and keeping existing staff happy. However, even the best HR teams can benefit from working with a staffing agency.
First of all, staffing agencies have access to a wider pool of potential candidates. They also generally have more experience conducting interviews and screening applicants. As a result, they can help you find the very best people to join your team.
In addition, staffing agencies can take on some of the burdens of the hiring process, freeing up your HR team to focus on other important tasks. Ultimately, working with a staffing agency is an excellent way to supplement the work of your HR team and give your company an edge in the war for talent.
5 Myths About Staffing Agencies For Job Seekers
Are you considering using a staffing agency to help you find your next job? If so, you may be wondering what to expect. Unfortunately, there are a lot of myths about staffing agencies out on the internet.
You may have heard that staffing agencies cost money to job seekers or that they only work with those who are currently unemployed, but those are just some common myths about staffing agencies.
This blog post will dispel some of the most common myths and tell you the truth about the benefits of working with a staffing agency. Keep reading to learn more!
Staffing Agencies Are Only For People Who Are Unemployed
Many people think staffing agencies are a resource for only those who are unemployed and looking for work, but that is one of the common myths about staffing agencies. Staffing agencies can also be a valuable tool for people already employed. Whether you're looking for a new opportunity or simply trying to find a better match for your skills, a staffing agency can help you take the next step in your career.
The best agencies work with various businesses in different industries to offer a wide range of job postings. In addition, they get to know their clients and their needs to match qualified candidates with the right positions. As a result, working with a staffing agency is an efficient way to find a new job tailored to your unique skills and experience.
Do not let this myth fool you. 65% of workers who are currently employed are looking for a new job, making the majority of our candidates already employed. Additionally, in this job market, most of our candidates are sourced. The candidates we source are usually passive job seekers who are currently working but not currently applying to job openings. If you are currently working and are seeking a new job opportunity, we can help!
Staffing Agencies Charge Job Seekers For Their Services
If a staffing agency is charging you money for their services as a job seeker, they are a scam. Staffing agencies are a free resource for you as a job seeker. We get paid by employers who are seeking employees for their job openings.
Some staffing agencies charge for 'resume help' or 'career coaching,' but if you come across one, that staffing agency isn't a good fit for you as they are likely scamming candidates out of money. The majority of staffing agencies offer free resources like career coaching and resume help on top of helping you find a new career.
It is essential to do your research and only work with staffing agencies you trust. You should never pay for a staffing agency's services.
Our staffing agency offers the following resources for free to job seekers and our temps:
Career Coaching
Business Cards
Monthly Newsletters
Hall of Fame
Referral Program
Weekly Pay
Sick Pay
Paid Lunch
Paid Holiday
Additional Training
Staffing Agencies Only Place Temporary Employees
This is one of the most common myths about staffing agencies. While some agencies may focus exclusively on temporary placements, the vast majority of staffing agencies place candidates in both temporary and permanent positions. Many businesses use staffing agencies to fill both types of jobs.
When you work with a staffing agency, they will get to know your skills, experience, and career goals. With this information, they can help you find a position that is the right fit for you, whether temporary or permanent.
One of the first questions we ask all our candidates is what type of work they are interested in. The three types of positions we fill are temporary, temp-to-perm, and direct hire. If you are interested in temp-to-perm and direct-hire, we will not submit your resume for any temporary positions.
Rarely do we receive temporary positions.
All Staffing Agencies Are The Same
Just like any other industry, there are different types of staffing agencies. Some staffing agencies focus on temporary positions, and others focus on more temp-to-perm positions. It's essential to do your research to determine which one will be best for you.
Whenever we receive a call from a candidate about potentially finding a job through us, we always get to find out what kind of work they are looking for. We specialize in administrative work, so if we receive a call from a candidate seeking employment in the warehouse, we point them to other local staffing agencies that specialize in those fields.
Additionally, if a client calls us for a role we do not usually fill, we advise them what other staffing agencies in our area will be better suited for what they are looking for!
Staffing Agencies Don't Care About Their Candidates' Best Interests
As you may know, companies succeed based on their customers' experiences. Suppose our candidates have a bad experience with our agency because we aren't looking out for their best interests. In that case, that candidate will either vent about our staffing agency to their friends or go online and write a one-star review on Google or Yelp.
Here at City Personnel, we do our best to work with candidates' to find the best fit for them. We recently received the Best of Staffing Talent Satisfaction Award from ClearlyRated for providing remarkable service to our candidates.

We do our best always to have our candidates' best interests in mind when finding them work. If you are seeking a specific position in a particular town, we will not bombard you with other positions that don't fit what you are looking for. Not only does that make you frustrated, but if you accept the position and then move on to another position with another company that better fits your needs, that will look bad on our company because we offered you an opportunity that you weren't interested in.
Additionally, we are an extra resource for you to get the money you deserve. The more money you get paid, the more money we get paid by our client.
As you can see, there are a lot of myths about staffing agencies. For employers, we do provide not only temporary workers but also temp-to-perm and direct hires. Also, staffing agencies aren't expensive, and we supply high-quality candidates for all-sized companies, even those with HR teams.
For job seekers, we do not charge you for our services, we are unique compared to other staffing agencies, and we are always looking out for our candidates' best interests.
If you are in need of working with a staffing agency as either an employer or job candidate, we can help! Please visit our Contact Us page and reach out to us in regards to what you need help with!